9 New Places To Visit Near Bangkok
Now that we've been fortunate enough to have seen over a full month without any new locally-transmitted cases of Covid-19, many of us have started to venture a little further from the home that we became just that little too accustomed to over the last few months. It should be said that we should be proud of ourselves and of everyone in Thailand who has come together (metaphorically speaking) to stay apart and keep this pandemic at bay.
With our newly-found and well-deserved freedom, we are re-visiting our favourite places, but many of us are seeking new ideas for local adventure and the chance to get out and make use of the Thai that we've learned during our months-long sabbatical from the outside world.
For many of us who have been learning Thai online, the best way to practice what we've learned from our Thai teacher is to just dive in and head out to places where using English won't get us very far. With this in mind, let's take a look at 9 interesting and off the beaten track locations that can be found within or not far from Bangkok to satisfy your wanderlust, get some much-needed language practice and to help support local tourism businesses who sorely need it.
1. Kwan Im Shrine (ตำหนักพระแม่กวนอิม), Lat Phrao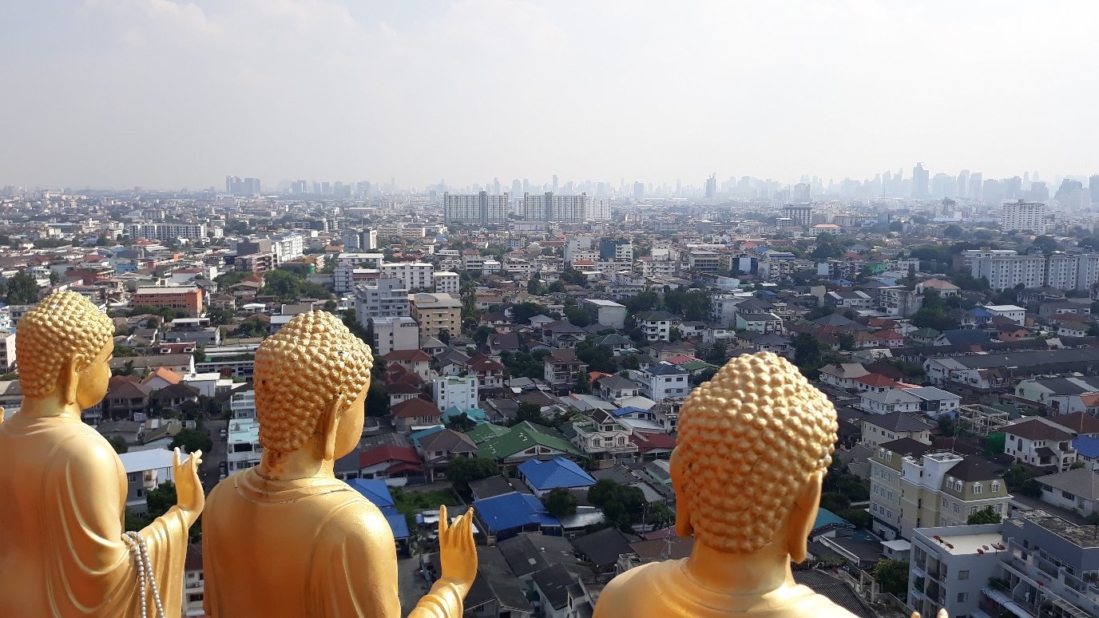 Hidden away in the sois of Lat Phrao, the Kwan Im Shrine is a very unusual Taoist temple in the form of a very prominent 70-metre tall pagoda-style tower. Located in a landscaped courtyard full of unusual marble statues, the complex is full of surprises and lots to tell your Thai teacher about.
You can climb the interior of the tower which is filled with beautifully painted frescoes on each level and the most random assortment of items and collectables lining the stairways. At the height of a 21-storey building, the roof is adorned with an outer circle of Buddha statues gazing out across the city and offers fantastic views in all directions. What makes the view more spectacular is the fact that there are no other tall buildings nearby, so unlike so many other viewing platforms in Bangkok, there are no obstructions blocking the view across the low rise landscape. 
If you are coming toward the shrine from Lat Phrao road, it's definitely worth passing through the grounds of Wat Lat Phrao, which is stunning both inside and out.
Learn Thai on your way to Lat Phrao:
เจ้าแม่กวนอิม
jâomɛ̂ɛ guan'im
"Guanyin" the female Buddha
ลัทธิเต๋า
láttí dtǎo
Taoism
หินอ่อน
hǐn ɔ̀ɔn
Marble
2. Phuttamonthon (พุทธมณฑล), Nakhon Pathom
One of the lesser-known green spaces around the city, Phuttamonthon covers almost 4 square kilometres just across the Bangkok provincial border in Nakhon Pathom province. The focal point is the 15-metre-high Buddha statue in the centre of a concentric circular layout, flanked by two smaller circular gardens. If you've missed organised nature and landscaped parkland, this is the place for you. 
With an abundance of ponds, tree-lined pathways and even small islands surrounding the circular core, this place is ideal for long weekend strolls or cycles (you can rent bicycles), particularly in the late afternoon and at sunset. Alternatively, you can pick out a spot in the shade and just chill now that you're away from the noise and commotion of Bangkok and you have a break from studying Thai online.
If you arrive via Salaya train station, check out the Salaya market and take a stroll down through Mahidol university, taking in the impressive Prince Mahidol Concert Hall.
Learn Thai on your way to Phuttamonthon:
สวนพุทธสถาน
sǔan púttá satǎan
Buddhist park
พระพุทธรูป
prá púttá rûup
Buddha statue
บึง
bʉng
Pond
พระอาทิตย์ตก
prá aatít dtòk
Sunset
มหาวิทยาลัย
mahǎawíttáyaalai
University
3. Pak Nam (ปากน้ำ), Samut Prakan
The capital of Samut Prakan province to the south of Bangkok, Pak Nam has more than its fair share of beautiful temples and the Pak Nam observation tower, which provides sweeping views of the mouth of the Chao Phraya and out to the Gulf of Thailand. As you may already know from Thai class, Pak Nam (ปากน้ำ) means "Mouth of the Water", in reference to its location near the mouth of the river. From close to the fresh market, you can take a ferry across the Chao Phraya to the Phra Samut Chedi and the Phi Suea Samut Fort and Museum on the island nearby.
From Kheha BTS station, it's also easy to reach Muang Boran, or the Ancient City, by taxi. This sprawling complex, dubbed the world's largest outdoor museum, is a fascinating Thailand-shaped park packed with replicas of former and existing monuments and buildings, some life-sized, some scaled-down, which can be cycled or driven around by car or rented golf cart. Highly recommended for those seeking a little history, exercise and outdoor fun. Of particular note is the park's centrepiece, the striking green and yellow wooden Pavilion of the Enlightened, which was designed and created specifically for the park.
Learn Thai on your way to Samut Prakan:
หอชมวิว
hɔ̌ɔ chom wiu
Observation tower
อ่าวไทย
àao tai
Gulf of Thailand
ตลาดสด
dtalàat sòt
Fresh market
พิพิธภัณฑ์
pípíttápan
Museum
4. Wat Sothonwararam Worawihan (พระมหาวิหารหลวงพ่อโสธร), Chachoengsao
Catch a 90-minute minivan from the Eastern Terminal in Ekkamai to Chachoengsao town, then take a 20-minute walk through town to reach the beautiful riverside Wat Sothonwararam Worawihan with its marble and gold central tower, one of the tallest in the country. 
You can easily spend a couple of hours here admiring the interior and exterior of the building, as well as the riverside setting next to the Bang Pakong and surrounding area. However, as this is a particularly important religious site for many Thais, the dress code here is particularly strict, so be sure to dress appropriately. Why not take a wander through the streets of this provincial capital once you're satisfied with the temple? There are plenty of places to eat and get coffee nearby.
If you have your own transport, a 20-minute drive will also get you to Wat Saman Rattanaram, which is worth a visit. It is also known as the Ganesha Temple because it boasts a large pink statue of the Hindu elephant god himself.
Learn Thai on your way to Chachoengsao:
สถานีขนส่ง
satǎanii kǒnsòng
Bus terminal
กฎการแต่งกาย
gòt gaan-dtɛ̀nggaai
Dress code
5. Wat Samphran Dragon Temple (วัดสามพราน), Nakhon Pathom
There are always a number of temples on any list of things to see in Thailand, but this one is certainly unlike any other. Located about an hour west of Bangkok, the primary feature is a cylindrical 17-storey tower with a massive dragon sculpture wrapped around the outside, with its head perched over the rooftop and the cluster of smaller ornate buildings that can be found there.
You can reach the top of this unusual temple tower in a supremely unusual way, by climbing inside the dragon's body until you come out near the top floor. As beautiful as the view is, it is definitely the tower itself and the dragon that steal the show. 
There are a number of other sights around the grounds including a large Buddha statue and some gardens. If you are looking for somewhere interesting that is very local and different, this place will certainly not disappoint! It's a bit of a wonder why this is not a more popular stop for tourists or out of town visitors.
Learn Thai on your way to Nakhon Pathom:
รูปปั้นมังกร
rûupbpân manggɔɔn
Dragon Sculpture
พันรอบ
pan rɔ̀ɔp
To coil around
ดาดฟ้า
dàat fáa
Rooftop
ลำตัว
lam dtua
Body/Torso
6. Koh Kret (เกาะเกร็ด), Pak Kret
To the north of Nonthaburi sits Pak Kret, another of Thailand's largest cities. Perennially overshadowed by Bang Krachao much further to the south, Koh Kret is another former loop in the Chao Phraya where you can spend a pleasant afternoon and hire bicycles to explore this green haven among the sea of concrete.
If cycling isn't your thing, you can still spend a good few hours walking around exploring the restaurants, markets and temples, such as Wat Poramai Yikawat, that lie closer to the ferry pier at the Eastern end of the island. This can easily be done in an afternoon after taking Thai lessons in the morning.
Nothing is better for the soul after being cooped up for so long than spending time among the green of nature and this is something that Koh Kret provides in abundance. The best part? There are no proper roads on the island, only pathways, so its infrastructure does not allow for any cars, perfect for getting away from the traffic.
Learn Thai on your way to Koh Kret:
คุ้งแม่น้ำ
kúng mɛ̂ɛnáam
River bend
ปั่นจักรยานเที่ยว
bpàn jàkgrayaan tîao
To cycle around
ท่าเรือข้ามฟาก
tâa rʉa kâamfâak
Crossing ferry pier
พื้นที่สีเขียว
pʉ́ʉntîi sǐi kǐao
Green zone
7. Wat Khun Samut Chin (วัดขุนสมุทรจีน), Samut Prakan
The temple buildings here may be somewhat unremarkable by themselves (as Thai temples go), but it's their location on what was once the former coastline that make them remarkable. Sitting at the forefront of Bangkok's coastal erosion and rising sea level problems, it's the journey across almost 10 km of flooded coastal marshland that makes this location so unusual.
Sitting some 25 km south of central Bangkok, this is not an easy place to reach. It involves taking a songtaeo from the Phra Samut Chedi area in Pak Nam, a boat across some narrow stretches of water and quite a bit of walking (unless you have a bike or a scooter). Once you finally reach the coast, you will be greeted by a bizarre landscape of muddy tidal sea flats divided by dikes. This type of environment stretches right across the western coastline of the Bight of Bangkok into Samut Songkhram Province.
There are a small handful of homestays and a small temple museum out here if you want to get the full experience of living on the very edge of the Chao Phraya basin.
Learn Thai on your way to Samut Prakan:
ชายฝั่งทะเล
chaai fàng tálee
Coastline
การกัดเซาะ
gaan-gàtsɔ́
Erosion
ระดับน้ำทะเลสูงขึ้น
rádàp náam tálee sǔung kʉ̂n
Rising sea level
เขื่อน
kʉ̀an
Dike/Dam
8. Nakhon Pathom Town (เมืองนครปฐม), Nakhon Pathom
Despite being barely an hour's drive from the city, few are aware that Nakhon Pathom boasts the tallest stupa in Thailand and the 2nd tallest in the world (after Jetavanaramaya in Sri Lanka). Standing at 120.5 metres in height, the Phra Pathom Chedi dominates the city and it is here that the ashes of King Rama VI are enshrined. Although rebuilt from ruins during the reign of his grandfather, King Mongkut, and having undergone a number of subsequent restorations, the original base structure is thought to date back over 2000 years.
Sitting directly in front of the train station, the stupa can be easily reached by all east and southbound trains leaving Bangkok, with multiple services running most hours during the day.
A couple of kilometres to the West is the decidedly Disney-looking Sanam Chandra Palace, built by Rama VI so he could stay when he visited the nearby stupa. Surrounded by publically-accessible gardens, it is definitely worth a visit during the cooler periods of the day.
Learn Thai on your way to Nakhon Pathom:
เจดีย์
jeedii
Pagoda/Stupa
ความสูง
kwaam-sǔung
Height
ซ่อมแซม
sɔ̂msɛɛm
To restore/fix
รถไฟสายใต้
rótfai sǎai dtâai
Southbound train route
พระราชวัง
prá râatchawang
Royal palace
9. Rom Hoop Market at Mae Khlong (ตลาดร่มหุบที่แม่กลอง), Samut Songkhram
If you enjoy riding the rails, there is a little-known SRT train station near Wongwian Yai that has hourly trains running the roughly hour-long route to Samut Sakhon. From there, if you take the ferry across the Tha Chin river, you can catch another hour-long train from there to Mae Khlong in Samut Songkhram province.
This particular train is well-known for its track running straight through the Rom Hoop Market directly before the Mae Khlong terminal station. Moments before it passes through, a frenzy of activity occurs as vendors fold up their shades to make way for the incoming or outgoing train. Their rapid reactions and obvious experience in this unusual task is as fascinating to watch as the train itself. As you may have already learned from your Thai teacher, the name Rom Hoop (ร่มหุบ) itself literally means "Folding Umbrella".
If you want to make an overnight trip of it, why not venture a few kilometres upriver to the Amphawa floating market and stay in a khlong-side guesthouse? If you do, take advantage of a boat trip along the back canals and the Mae Khlong river itself after the sun goes down to see the abundant fireflies.
There's ample opportunity to get out and practice speaking the Thai language with Thai people. For more places to go, try asking your teachers from your Thai language school for their recommendations!
Learn Thai on your way to Samut Songkhram:
ทางรถไฟ
taang rótfai
Railway
ความวุ่นวาย
kwaam-wûnwaai
Frenzy
ตลาดน้ำ
dtalàat náam
Floating market
หิ่งห้อย
hìnghɔ̂i
Firefly