Loy Krathong, also known as the festival of lights, is one of Thailand's most enchanting and culturally rich celebrations. This ancient festival, which typically takes place in November, holds a special place in the hearts of the Thai people. It's a time to express gratitude, pay homage to the water goddess, and symbolically release worries and troubles into flowing rivers and waterways. At the heart of this festival lies the art of crafting krathongs, intricately decorated floats that carry offerings and wishes. In this article, we will delve into the significance of Loy Krathong and take you through the steps of making your own krathong, while also exploring the unique opportunity to learn Thai at Duke Language School.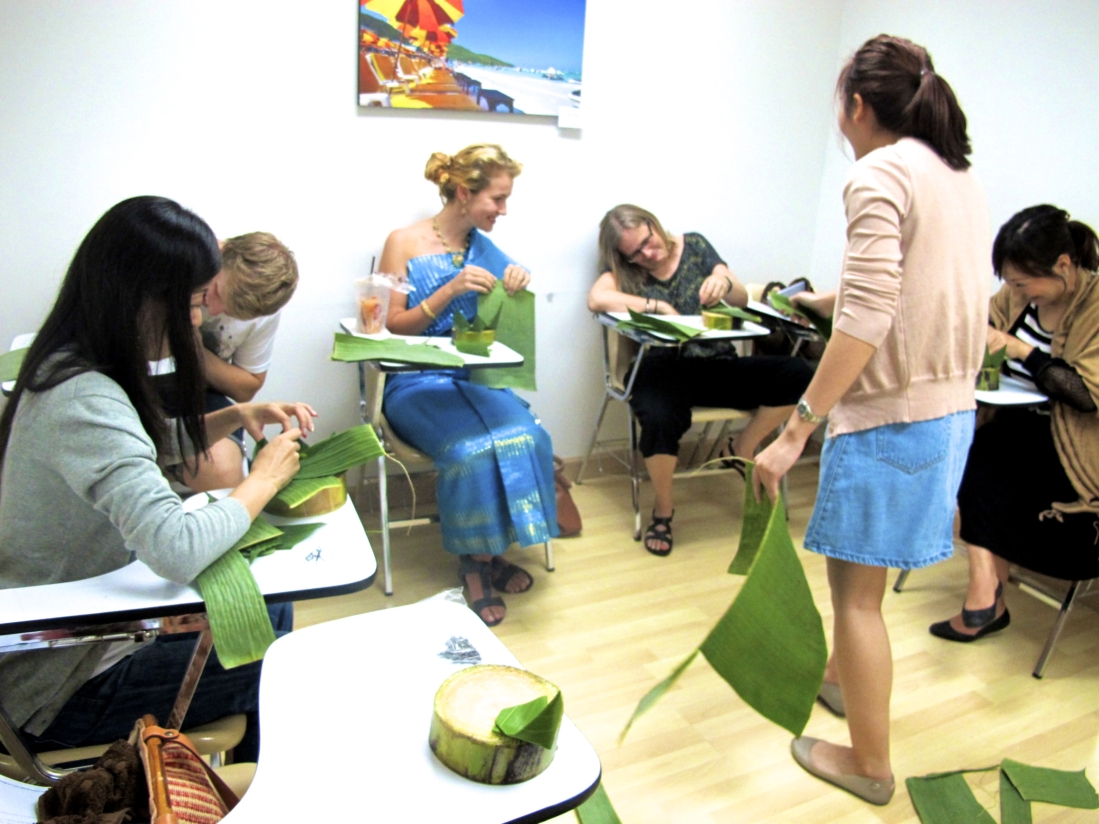 The Significance of Loy Krathong
Deep historical and cultural roots: Loy Krathong's origins can be traced back to the Sukhothai Kingdom in the 13th century, when the festival was first celebrated as a way to express gratitude to the water goddess, Phra Mae Khongkha. Over the centuries, it has evolved, incorporating elements from Buddhist and Hindu traditions.
Celebrating nature: Loy Krathong is a festival that celebrates the importance of water in Thai culture. Thailand, often referred to as the "land of a thousand smiles," might also be called the "land of a thousand waters" due to its numerous rivers, canals, and lakes. Water plays a crucial role in Thai agriculture and daily life, and Loy Krathong is a way to honor this life-giving element.
Releasing troubles and negativity: Central to the festival is the practice of releasing negative emotions, troubles, and bad luck into the water. As people set their krathongs afloat, they do so with the belief that their worries will be carried away by the currents, allowing them to start anew with a clean slate.
Making wishes: As krathongs gently float away, people often make wishes for the future. These wishes can be personal hopes and dreams or broader aspirations for the well-being of their communities and the world at large. Making a wish while releasing a krathong is a symbolic gesture of hope and optimism.
Expressing gratitude: Loy Krathong is a time to express gratitude to ancestors, teachers, and loved ones. Many people include small tokens or mementos on their krathongs as a way of honoring those who have passed away or played significant roles in their lives.
Crafting Your Own Krathong – 5 Easy Steps
Now that we've explored the significance of Loy Krathong, let's delve into the art of crafting your very own krathong. Creating a krathong is a creative and fulfilling experience, allowing you to immerse yourself in the festival's traditions.
Step 1 – Gather your materials
To create a beautiful krathong, you'll need the following materials:
A circular base: Traditionally made from banana tree trunks. If banana trees are not available, styrofoam or bread may be used as a substitute for the base of the krathong.
Fresh banana leaves: These will form the decorative part of the krathong.
Flowers, incense sticks, and candles: These items will adorn your krathong and make it visually appealing.
A small coin or money offering: Placing a coin on your krathong symbolizes an offering to the Water Goddess.
String or pins: You'll need these to secure the banana leaves and other decorations in place.
Scissors and a small knife: These tools will be used to cut and shape the materials.
Step 2 – Prepare the base
If you're using styrofoam or a banana tree trunk as your base, begin by cutting it into a circular shape. Ensure that it's sturdy enough to hold your decorations and float on the water. The size of your krathong can vary, but it typically measures around 20-30 centimeters in diameter.
Step 3 – Create the decorative layers
Banana leaf base – Cut the banana leaves into small, square pieces. Dip them in water to make them more pliable to prevent them from cracking. Arrange these pieces on the base to form a circular layer, securing them with pins or string.
Decorate with flowers – Place colorful flowers on top of the banana leaf base. Popular choices include chrysanthemums, marigolds, and lotus petals. Use pins to secure the flowers in place.
Step 4 – Add incense and a candle
Insert three incense sticks evenly around the center of the krathong. These sticks symbolize the elements of earth, water, and fire. Place a candle in the middle, making sure it's secure. You may need a small piece of banana leaf or wax to hold the candle in place.
Step 5 – Final touches
Attach a small coin – It is customary to attach a small coin or money offering to your krathong as a symbol of gratitude and respect for the water goddess. Use string or pins to secure it to the krathong.
Trim and shape – Use scissors and a small knife to trim any excess banana leaves and shape your krathong. Ensure that it's well-balanced and can float steadily on the water.
Learn Thai
While Loy Krathong offers a glimpse into the rich culture and traditions of Thailand, one can further immerse themselves in Thai culture by learning the Thai language.
Here are some pictures from Duke Language School's Loy Krathong activity from previous years.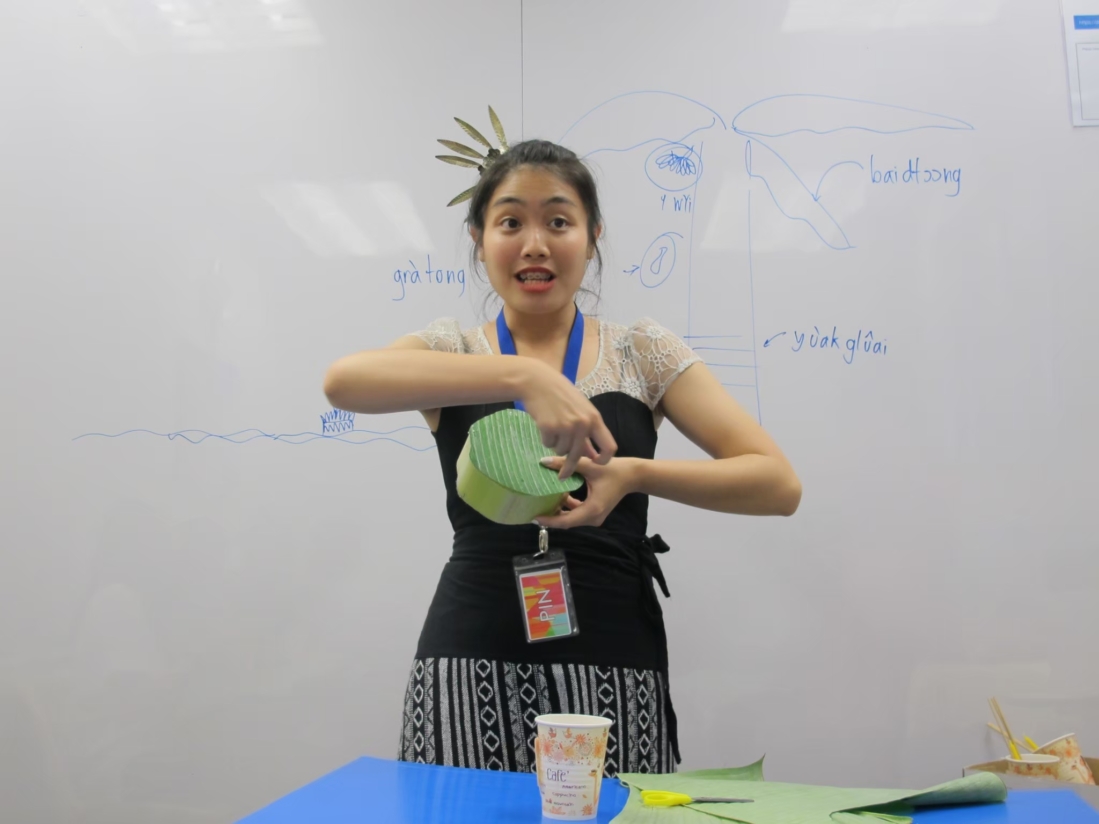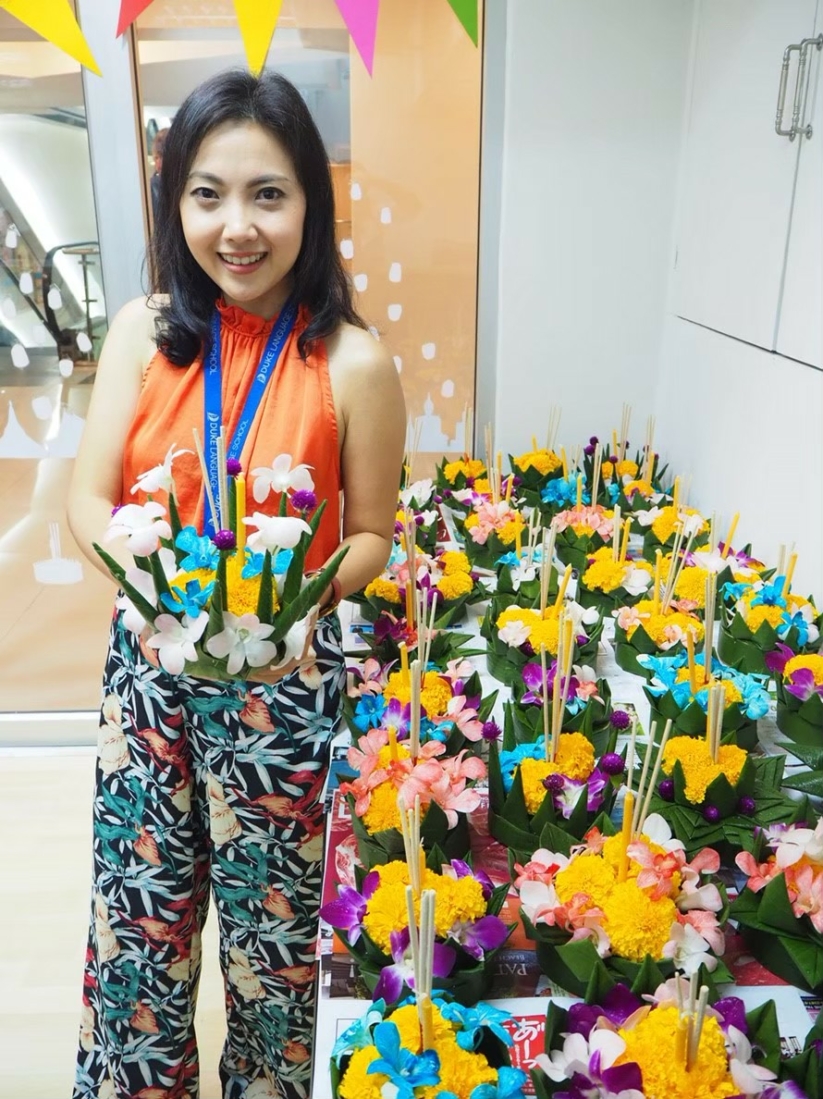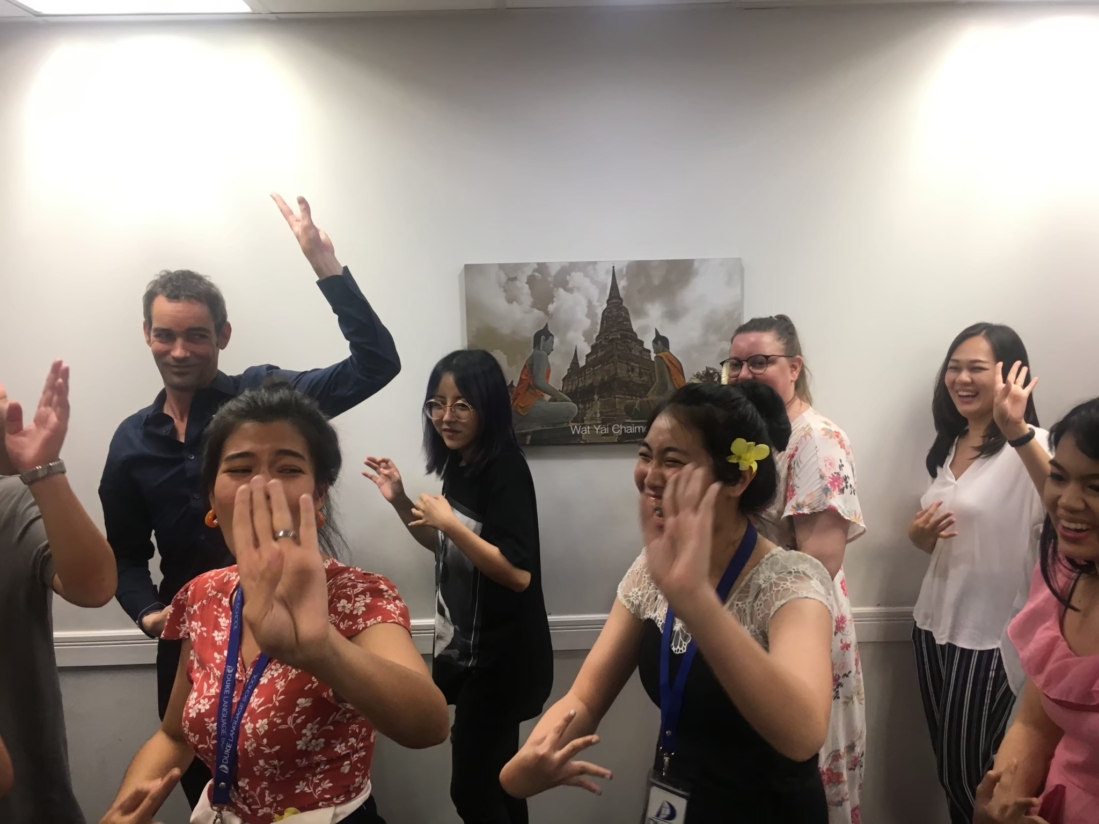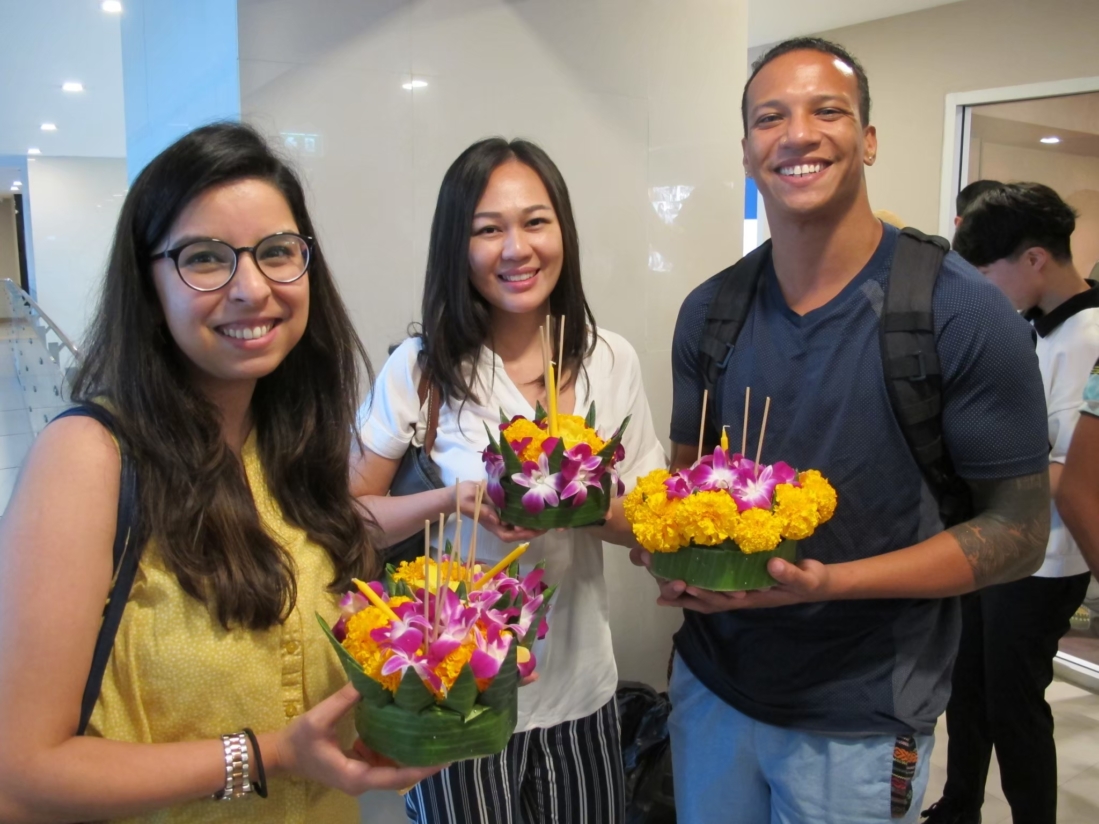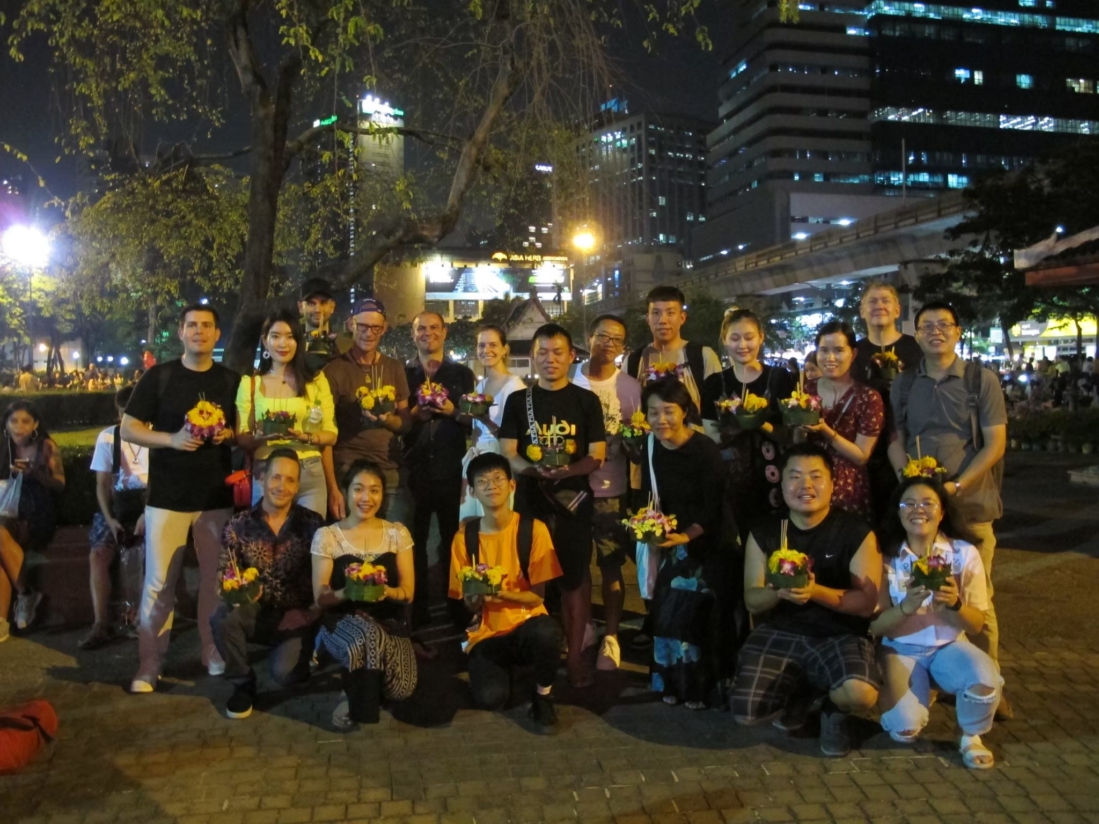 Duke Language School offers a variety of Thai language courses for learners of all levels, from beginners to advanced speakers. Our Thai language instructors provide comprehensive language instruction that covers speaking, listening, reading, and writing skills. Whether you're a traveler looking to communicate more effectively during your visit to Thailand, or someone interested in deepening your understanding of the culture, learning Thai at Duke Language School can be a rewarding experience.
By enrolling in a Thai language course, you can enhance your appreciation of Loy Krathong and other Thai traditions. Speaking the language not only allows you to communicate with locals more effectively but also enables you to connect on a deeper level with the culture and heritage of Thailand.
Conclusion
Loy Krathong, the festival of lights, is a cherished Thai tradition that allows Thai people to connect with their cultural heritage, express gratitude, and release their worries into the water. During this holiday, people craft krathongs. Krathongs are beautiful, handmade floating objects that carry offerings and wishes. By following the five steps outlined in this article, you can create your own krathong and participate in this beautiful celebration. As you release your krathong into the water and make your wishes, take a moment to take in the atmosphere, the flickering candlelight, and the reflections on the water's surface. Loy Krathong is not only a time for celebration but also a time for reflection, gratitude, and cultural enrichment.
When you study Thai with us at Duke Language School, you will deepen your understanding of Thailand's culture and language, enabling you to more fully connect to Thailand and its people. As Loy Krathong approaches, remember that this festival offers not only the beauty of lights on the water but also the opportunity to explore the richness of Thai culture through language and tradition.
สุขสันต์วันลอยกระทง
Sùksǎn wan lɔɔi gratong
Happy Loy Krathong!

As October rolls in, Halloween enthusiasts around the world prepare for a night of spooky and exciting activities. While countries like the United States have their own share of ghostly tales and spooky traditions, Thailand offers a unique and eerie perspective of the world of spirits that provides an exceptional opportunity to learn Thai and explore Thailand.
Some Thai Language schools, like Duke Language School, for example, celebrate Halloween with fun and creativity.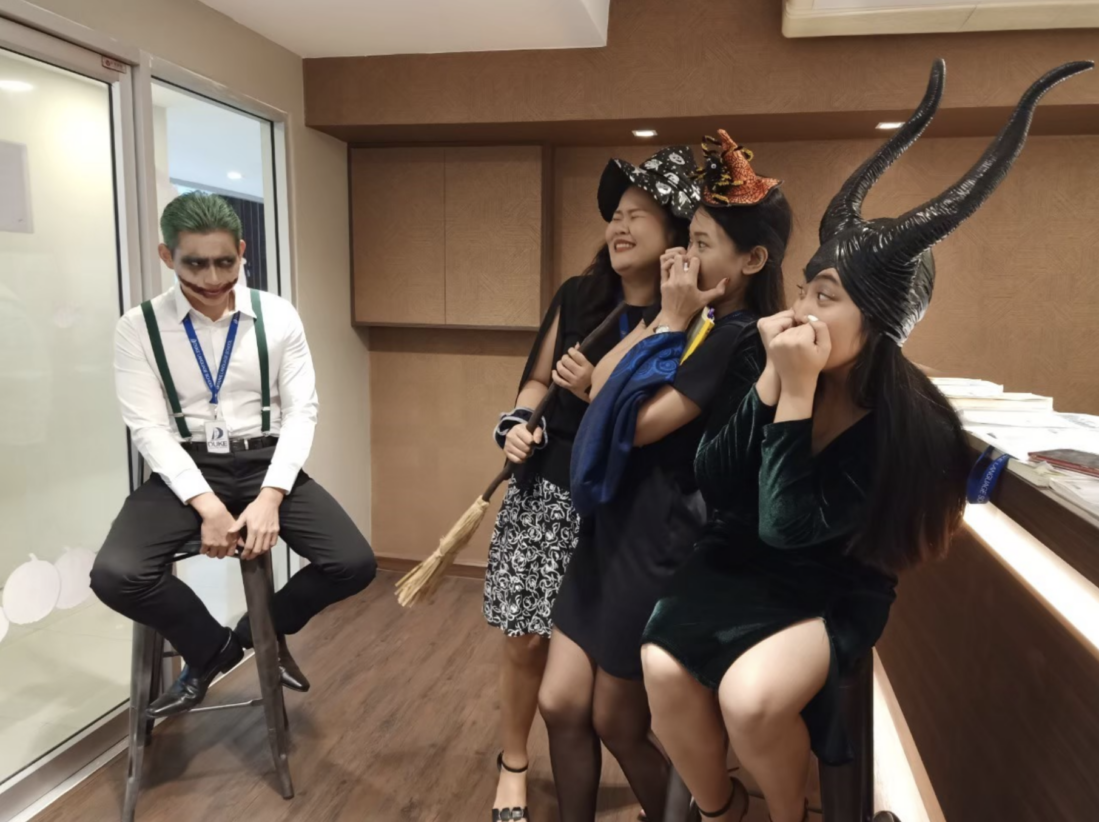 Thai Ghosts: A Tapestry of Fear
Thailand is renowned for its stunning landscapes, rich culture, and delicious cuisine. But did you know that Thailand is equally celebrated for its captivating folklore and ghost stories? Thai ghosts, locally known as ผี (pǐi) have their roots in indigenous beliefs, Hinduism, and Buddhism, resulting in a diverse array of supernatural entities that both terrify and intrigue.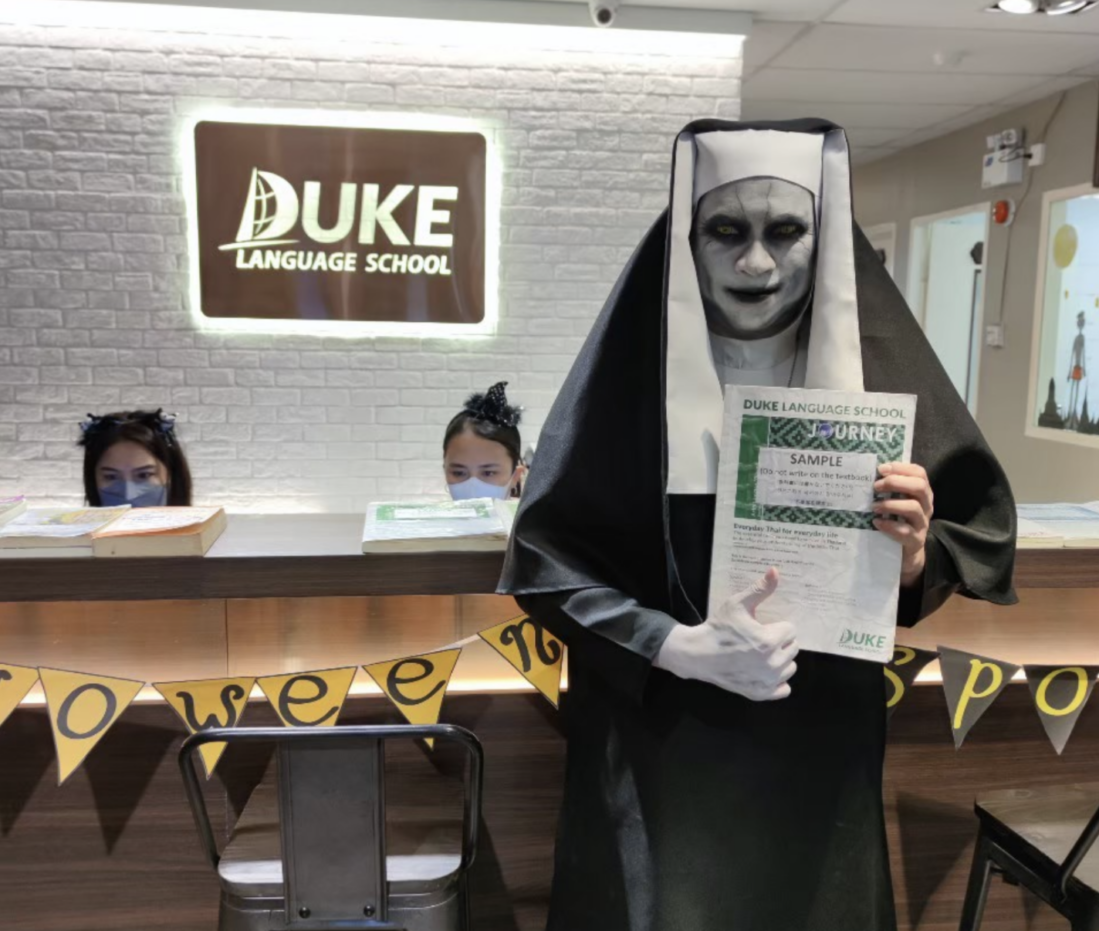 Learn Thai and Discover Thai Ghost Folklore
While exploring the spooky world of Thai ghosts, seize the opportunity to learn Thai by familiarizing yourself with the local terminology used to describe these spectral beings. Understanding terms like ผี (pǐi) will enable you to better explore Thailand's supernatural realm.
Learning Thai can give you a deeper understanding of Thai culture and folklore, including the beliefs about Thai ghosts. Here are a few ways that learning Thai can help you learn more about Thai ghosts:
Read Thai ghost stories and legends. There are many Thai ghost stories and legends that have been written down and published. Reading these stories in Thai can help you to better understand the Thai perspective on ghosts and the supernatural. If you would like to practice your Thai reading skills, you can get this book: "เรื่องผีๆรอบโลก ผีไทย." It translates to "Ghost Stories Around The World – Thai Ghosts". You can find it in the SE-ED book store.
Watch Thai ghost movies and TV shows. Thai ghost movies and TV shows are very popular in Thailand. They can be a great way to learn more about Thai culture. Many Thai ghost movies and TV shows are based on real-life Thai ghost stories and legends.
Talk to Thai people about ghosts. Thai people are generally very open about their beliefs in ghosts and the supernatural. Talking to Thai people about ghosts can be a great way to learn more about their personal experiences and beliefs.
If you are ever in Thailand and you witness a ghost festival or traditional ceremony taking place, it is important to be respectful of Thai customs and etiquette. Here are a few tips:
Be respectful of offerings. Do not step over offerings that have been placed for ghosts. You should also avoid touching or eating offerings without permission.
Do not talk about ghosts in a disrespectful way. Thai people believe that ghosts are powerful and should be respected. Avoid making jokes about ghosts or speaking about them in a negative way.
Let's have a look at some famous ghosts in Thailand below.
1. ผีปอบ (Pǐi Bpɔ̀ɔp)
Perhaps one of the most infamous Thai ghosts, ผีปอบ (pǐi bpɔ̀ɔp) is often portrayed as a malevolent female ghost that devours the insides of humans and animals. Crossing paths with ผีปอบ (pǐi bpɔ̀ɔp) is believed to bring misfortune or calamity.
In Thai, the word "ปอบ" is also used to refer to a type of parasite that infests the body. This may be the origin of the belief in ผีปอบ, as it is believed that the parasite can take control of the host's body and mind.
2. ผีกระหัง (Pǐi Gràhǎng)
This malevolent male spirit, with a reputation for causing harm and chaos, particularly during the night, is a chilling presence that lurks in the dark, creating an unsettling atmosphere.
It manifests itself as a shirtless man, who flies in the night. ผีกระหัง (pǐi gràhǎng) uses two large กระด้ง (gràdông) – round rice winnowing baskets, to fly in the night in rural areas of Thailand.
3. นางตานี (Naang Dtaanii)
Linked to banana trees, นางตานี (naang dtaanii) is a female spirit tasked with guarding these trees.
It is said disturbing her inflicts dire consequences. This is a cautionary tale deeply ingrained in Thai folklore.
4. ผีกระสือ (Pǐi Gràsʉ̌ʉ)
A horrifying Thai ghost, ผีกระสือ (pǐi gràsʉ̌ʉ) is often depicted as a female figure with her head and internal organs detached from her body.
The head and internal organs of this ghost are said to glow in the dark. ผีกระสือ (pǐi gràsʉ̌ʉ) uses them to hunt for food. Legends suggest that she was a woman who practiced dark magic during her lifetime.
5. ผีอำ (Pǐi Am)
A spirit that sits on a person's chest during the night. ผีอำ (pǐi am) is thought to be responsible for inducing sleep paralysis.
This spirit is primarily associated with the occurrence of distressing nightmares.
6. เปรต (Bprèet)
เปรต (bprèet) is the spirit of a person who has died and has not yet been reborn. They are often depicted as being grotesque and deformed, with large stomachs and tiny mouths. They are also said to be constantly hungry and thirsty, but they are unable to find food or water that can satisfy them.
เปรต (bprèet) are believed to be the result of bad karma in a previous life. They may have been greedy, selfish, or cruel. As a result, they are condemned to suffer in the afterlife.
Beliefs and Superstitions
Thai beliefs surrounding ghosts are closely intertwined with animism, ancestor worship, and Buddhism. The concept of "merit" (บุญ / bun) is central, as it is believed that one's deeds in life influence their destiny in the afterlife. The annual Ghost Festival, known as ผีตาโขน (pǐi dtaa kǒon) in the northeastern region, involves making offerings to placate restless spirits.
Dive into the unique culture of spirit houses known as ศาลพระภูมิ (sǎan prá puum) as you explore Thailand.
These small shrines serve as dwellings for spirits, and offerings are made to ensure their goodwill and protection.
Haunted Locations
Thailand boasts numerous haunted sites and spine-tingling stories that have been passed down through generations. The แม่นาค (Mɛ̂ɛ Nâak) Shrine in Bangkok, dedicated to the ghost of Mae Nak, a woman who died in childbirth and returned as a vengeful spirit, is among the most famous. This eerie site attracts both believers and thrill-seekers.
As you explore Thailand, be prepared to hear tales of haunted buildings, cemeteries, and forests. Locals often advise against visiting these places after dark, as it is believed that spirits become more active during nighttime hours.
Modern Interpretations
Modern interpretations of Thai ghosts are diverse and reflect the changing social and cultural landscape of Thailand. Thai ghost stories continue to be popular because they offer a way to explore universal themes such as love, loss, and grief, as well as to connect with Thai culture and tradition.
Ghosts as a reflection of social and political issues – In recent years, there has been a trend of Thai ghost films and stories that use the supernatural to explore social and political issues such as poverty, inequality, and gender violence. For example, the film "The Medium" (2021) uses the story of a shaman who is possessed by a malevolent spirit to explore the themes of mental illness and classism.
Ghosts as a way to explore the human condition – Thai ghost stories have also been used to explore universal themes such as love, loss, and grief. The film "Nang Nak" (1999) is a modern retelling of a classic Thai ghost story about a woman who dies in childbirth and returns to haunt her husband. The film explores the themes of love, loss, and the power of grief.
Ghosts as symbols of trauma – In some modern Thai ghost stories, ghosts are seen as symbols of trauma. The film "Shutter" (2004) tells the story of a couple who are haunted by the ghost of a woman who was killed in a car accident. The ghost is seen as a symbol of the couple's own trauma and guilt.
Ghosts as symbols of social injustice – In some other modern Thai ghost stories, ghosts are seen as symbols of social injustice.  "The Promise" (2007) is a film about a ghost who is seeking revenge for being wronged in life. The ghost is seen as a symbol of the oppressed and the marginalized.
Ghosts as a way to explore the supernatural – Of course, some modern Thai ghost stories simply want to be scary and entertaining. These stories often explore the supernatural and the unknown. A film titled "Pee Mak" (2013) is a comedy horror film about a group of friends who are haunted by a ghost. The film is full of jump scares and special effects.
No matter what their interpretation, Thai ghost stories continue to be a popular and important part of Thai culture. They offer a way to explore universal themes, connect with the past, and be entertained.
Conclusion
This Halloween, consider celebrating the holiday in a novel and spine-chilling way by immersing yourself in the world of Thai ghosts. As you explore Thailand and begin to understand the local terminology, you'll find yourself immersed in a captivating and hair-raising adventure that promises to make your Halloween unforgettable. Thai ghosts add a layer of mystery and intrigue to the rich tapestry of Thai culture, making these ghosts the perfect choice for those seeking an alternative way to celebrate the season of frights and delights.
สุขสันต์วันฮาโลวีน
Sùksǎn Wan Haaloowiin
Happy Halloween!

Now that we've been fortunate enough to have seen over a full month without any new locally-transmitted cases of Covid-19, many of us have started to venture a little further from the home that we became just that little too accustomed to over the last few months. It should be said that we should be proud of ourselves and of everyone in Thailand who has come together (metaphorically speaking) to stay apart and keep this pandemic at bay.
With our newly-found and well-deserved freedom, we are re-visiting our favourite places, but many of us are seeking new ideas for local adventure and the chance to get out and make use of the Thai that we've learned during our months-long sabbatical from the outside world.
For many of us who have been learning Thai online, the best way to practice what we've learned from our Thai teacher is to just dive in and head out to places where using English won't get us very far. With this in mind, let's take a look at 9 interesting and off the beaten track locations that can be found within or not far from Bangkok to satisfy your wanderlust, get some much-needed language practice and to help support local tourism businesses who sorely need it.
1. Kwan Im Shrine (ตำหนักพระแม่กวนอิม), Lat Phrao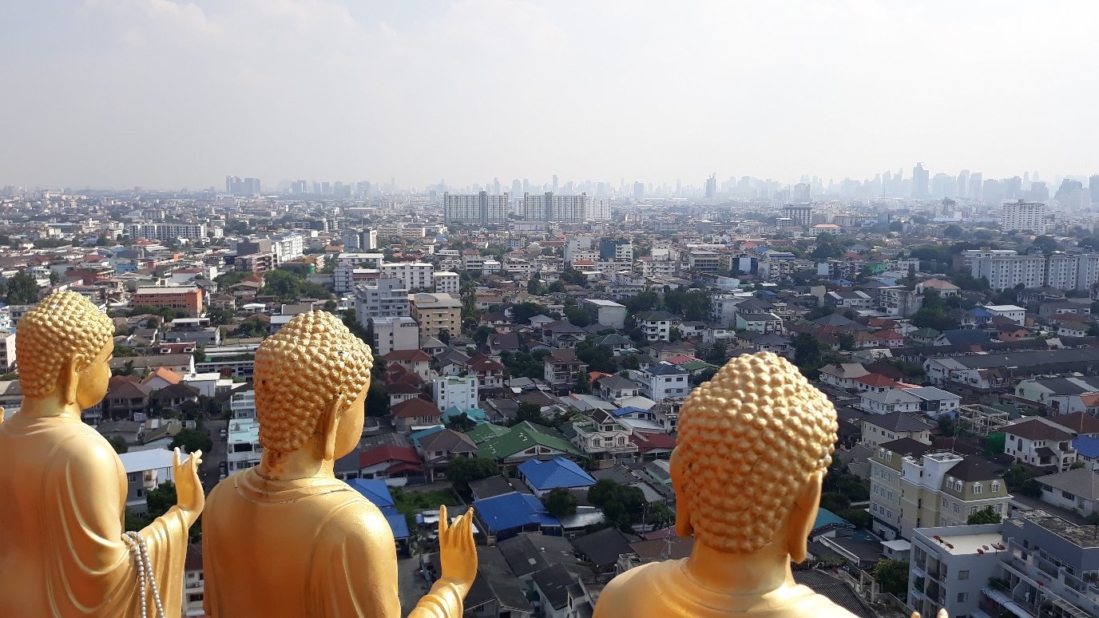 Hidden away in the sois of Lat Phrao, the Kwan Im Shrine is a very unusual Taoist temple in the form of a very prominent 70-metre tall pagoda-style tower. Located in a landscaped courtyard full of unusual marble statues, the complex is full of surprises and lots to tell your Thai teacher about.
You can climb the interior of the tower which is filled with beautifully painted frescoes on each level and the most random assortment of items and collectables lining the stairways. At the height of a 21-storey building, the roof is adorned with an outer circle of Buddha statues gazing out across the city and offers fantastic views in all directions. What makes the view more spectacular is the fact that there are no other tall buildings nearby, so unlike so many other viewing platforms in Bangkok, there are no obstructions blocking the view across the low rise landscape. 
If you are coming toward the shrine from Lat Phrao road, it's definitely worth passing through the grounds of Wat Lat Phrao, which is stunning both inside and out.
Learn Thai on your way to Lat Phrao:
เจ้าแม่กวนอิม
jâomɛ̂ɛ guan'im
"Guanyin" the female Buddha
ลัทธิเต๋า
láttí dtǎo
Taoism
หินอ่อน
hǐn ɔ̀ɔn
Marble
2. Phuttamonthon (พุทธมณฑล), Nakhon Pathom
One of the lesser-known green spaces around the city, Phuttamonthon covers almost 4 square kilometres just across the Bangkok provincial border in Nakhon Pathom province. The focal point is the 15-metre-high Buddha statue in the centre of a concentric circular layout, flanked by two smaller circular gardens. If you've missed organised nature and landscaped parkland, this is the place for you. 
With an abundance of ponds, tree-lined pathways and even small islands surrounding the circular core, this place is ideal for long weekend strolls or cycles (you can rent bicycles), particularly in the late afternoon and at sunset. Alternatively, you can pick out a spot in the shade and just chill now that you're away from the noise and commotion of Bangkok and you have a break from studying Thai online.
If you arrive via Salaya train station, check out the Salaya market and take a stroll down through Mahidol university, taking in the impressive Prince Mahidol Concert Hall.
Learn Thai on your way to Phuttamonthon:
สวนพุทธสถาน
sǔan púttá satǎan
Buddhist park
พระพุทธรูป
prá púttá rûup
Buddha statue
บึง
bʉng
Pond
พระอาทิตย์ตก
prá aatít dtòk
Sunset
มหาวิทยาลัย
mahǎawíttáyaalai
University
3. Pak Nam (ปากน้ำ), Samut Prakan
The capital of Samut Prakan province to the south of Bangkok, Pak Nam has more than its fair share of beautiful temples and the Pak Nam observation tower, which provides sweeping views of the mouth of the Chao Phraya and out to the Gulf of Thailand. As you may already know from Thai class, Pak Nam (ปากน้ำ) means "Mouth of the Water", in reference to its location near the mouth of the river. From close to the fresh market, you can take a ferry across the Chao Phraya to the Phra Samut Chedi and the Phi Suea Samut Fort and Museum on the island nearby.
From Kheha BTS station, it's also easy to reach Muang Boran, or the Ancient City, by taxi. This sprawling complex, dubbed the world's largest outdoor museum, is a fascinating Thailand-shaped park packed with replicas of former and existing monuments and buildings, some life-sized, some scaled-down, which can be cycled or driven around by car or rented golf cart. Highly recommended for those seeking a little history, exercise and outdoor fun. Of particular note is the park's centrepiece, the striking green and yellow wooden Pavilion of the Enlightened, which was designed and created specifically for the park.
Learn Thai on your way to Samut Prakan:
หอชมวิว
hɔ̌ɔ chom wiu
Observation tower
อ่าวไทย
àao tai
Gulf of Thailand
ตลาดสด
dtalàat sòt
Fresh market
พิพิธภัณฑ์
pípíttápan
Museum
4. Wat Sothonwararam Worawihan (พระมหาวิหารหลวงพ่อโสธร), Chachoengsao
Catch a 90-minute minivan from the Eastern Terminal in Ekkamai to Chachoengsao town, then take a 20-minute walk through town to reach the beautiful riverside Wat Sothonwararam Worawihan with its marble and gold central tower, one of the tallest in the country. 
You can easily spend a couple of hours here admiring the interior and exterior of the building, as well as the riverside setting next to the Bang Pakong and surrounding area. However, as this is a particularly important religious site for many Thais, the dress code here is particularly strict, so be sure to dress appropriately. Why not take a wander through the streets of this provincial capital once you're satisfied with the temple? There are plenty of places to eat and get coffee nearby.
If you have your own transport, a 20-minute drive will also get you to Wat Saman Rattanaram, which is worth a visit. It is also known as the Ganesha Temple because it boasts a large pink statue of the Hindu elephant god himself.
Learn Thai on your way to Chachoengsao:
สถานีขนส่ง
satǎanii kǒnsòng
Bus terminal
กฎการแต่งกาย
gòt gaan-dtɛ̀nggaai
Dress code
5. Wat Samphran Dragon Temple (วัดสามพราน), Nakhon Pathom
There are always a number of temples on any list of things to see in Thailand, but this one is certainly unlike any other. Located about an hour west of Bangkok, the primary feature is a cylindrical 17-storey tower with a massive dragon sculpture wrapped around the outside, with its head perched over the rooftop and the cluster of smaller ornate buildings that can be found there.
You can reach the top of this unusual temple tower in a supremely unusual way, by climbing inside the dragon's body until you come out near the top floor. As beautiful as the view is, it is definitely the tower itself and the dragon that steal the show. 
There are a number of other sights around the grounds including a large Buddha statue and some gardens. If you are looking for somewhere interesting that is very local and different, this place will certainly not disappoint! It's a bit of a wonder why this is not a more popular stop for tourists or out of town visitors.
Learn Thai on your way to Nakhon Pathom:
รูปปั้นมังกร
rûupbpân manggɔɔn
Dragon Sculpture
พันรอบ
pan rɔ̀ɔp
To coil around
ดาดฟ้า
dàat fáa
Rooftop
ลำตัว
lam dtua
Body/Torso
6. Koh Kret (เกาะเกร็ด), Pak Kret
To the north of Nonthaburi sits Pak Kret, another of Thailand's largest cities. Perennially overshadowed by Bang Krachao much further to the south, Koh Kret is another former loop in the Chao Phraya where you can spend a pleasant afternoon and hire bicycles to explore this green haven among the sea of concrete.
If cycling isn't your thing, you can still spend a good few hours walking around exploring the restaurants, markets and temples, such as Wat Poramai Yikawat, that lie closer to the ferry pier at the Eastern end of the island. This can easily be done in an afternoon after taking Thai lessons in the morning.
Nothing is better for the soul after being cooped up for so long than spending time among the green of nature and this is something that Koh Kret provides in abundance. The best part? There are no proper roads on the island, only pathways, so its infrastructure does not allow for any cars, perfect for getting away from the traffic.
Learn Thai on your way to Koh Kret:
คุ้งแม่น้ำ
kúng mɛ̂ɛnáam
River bend
ปั่นจักรยานเที่ยว
bpàn jàkgrayaan tîao
To cycle around
ท่าเรือข้ามฟาก
tâa rʉa kâamfâak
Crossing ferry pier
พื้นที่สีเขียว
pʉ́ʉntîi sǐi kǐao
Green zone
7. Wat Khun Samut Chin (วัดขุนสมุทรจีน), Samut Prakan
The temple buildings here may be somewhat unremarkable by themselves (as Thai temples go), but it's their location on what was once the former coastline that make them remarkable. Sitting at the forefront of Bangkok's coastal erosion and rising sea level problems, it's the journey across almost 10 km of flooded coastal marshland that makes this location so unusual.
Sitting some 25 km south of central Bangkok, this is not an easy place to reach. It involves taking a songtaeo from the Phra Samut Chedi area in Pak Nam, a boat across some narrow stretches of water and quite a bit of walking (unless you have a bike or a scooter). Once you finally reach the coast, you will be greeted by a bizarre landscape of muddy tidal sea flats divided by dikes. This type of environment stretches right across the western coastline of the Bight of Bangkok into Samut Songkhram Province.
There are a small handful of homestays and a small temple museum out here if you want to get the full experience of living on the very edge of the Chao Phraya basin.
Learn Thai on your way to Samut Prakan:
ชายฝั่งทะเล
chaai fàng tálee
Coastline
การกัดเซาะ
gaan-gàtsɔ́
Erosion
ระดับน้ำทะเลสูงขึ้น
rádàp náam tálee sǔung kʉ̂n
Rising sea level
เขื่อน
kʉ̀an
Dike/Dam
8. Nakhon Pathom Town (เมืองนครปฐม), Nakhon Pathom
Despite being barely an hour's drive from the city, few are aware that Nakhon Pathom boasts the tallest stupa in Thailand and the 2nd tallest in the world (after Jetavanaramaya in Sri Lanka). Standing at 120.5 metres in height, the Phra Pathom Chedi dominates the city and it is here that the ashes of King Rama VI are enshrined. Although rebuilt from ruins during the reign of his grandfather, King Mongkut, and having undergone a number of subsequent restorations, the original base structure is thought to date back over 2000 years.
Sitting directly in front of the train station, the stupa can be easily reached by all east and southbound trains leaving Bangkok, with multiple services running most hours during the day.
A couple of kilometres to the West is the decidedly Disney-looking Sanam Chandra Palace, built by Rama VI so he could stay when he visited the nearby stupa. Surrounded by publically-accessible gardens, it is definitely worth a visit during the cooler periods of the day.
Learn Thai on your way to Nakhon Pathom:
เจดีย์
jeedii
Pagoda/Stupa
ความสูง
kwaam-sǔung
Height
ซ่อมแซม
sɔ̂msɛɛm
To restore/fix
รถไฟสายใต้
rótfai sǎai dtâai
Southbound train route
พระราชวัง
prá râatchawang
Royal palace
9. Rom Hoop Market at Mae Khlong (ตลาดร่มหุบที่แม่กลอง), Samut Songkhram
If you enjoy riding the rails, there is a little-known SRT train station near Wongwian Yai that has hourly trains running the roughly hour-long route to Samut Sakhon. From there, if you take the ferry across the Tha Chin river, you can catch another hour-long train from there to Mae Khlong in Samut Songkhram province.
This particular train is well-known for its track running straight through the Rom Hoop Market directly before the Mae Khlong terminal station. Moments before it passes through, a frenzy of activity occurs as vendors fold up their shades to make way for the incoming or outgoing train. Their rapid reactions and obvious experience in this unusual task is as fascinating to watch as the train itself. As you may have already learned from your Thai teacher, the name Rom Hoop (ร่มหุบ) itself literally means "Folding Umbrella".
If you want to make an overnight trip of it, why not venture a few kilometres upriver to the Amphawa floating market and stay in a khlong-side guesthouse? If you do, take advantage of a boat trip along the back canals and the Mae Khlong river itself after the sun goes down to see the abundant fireflies.
There's ample opportunity to get out and practice speaking the Thai language with Thai people. For more places to go, try asking your teachers from your Thai language school for their recommendations!
Learn Thai on your way to Samut Songkhram:
ทางรถไฟ
taang rótfai
Railway
ความวุ่นวาย
kwaam-wûnwaai
Frenzy
ตลาดน้ำ
dtalàat náam
Floating market
หิ่งห้อย
hìnghɔ̂i
Firefly