Feeding Tigers and Riding Buffaloes at Suphan Buri
It was 9am on a Sunday morning.  We all met at Duke Language School where a van was waiting to take us to a place most 'farangs' never heard of.  At least not those who follow tourist guidebooks.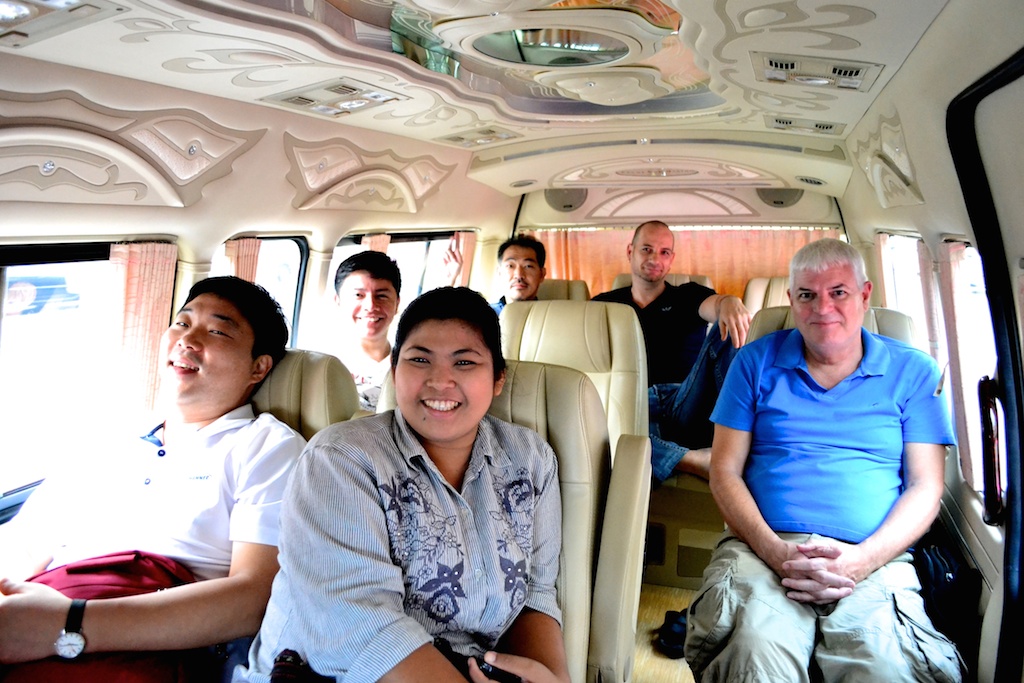 It was a fairly short 2-hour ride to Suphan Buri.  Thankfully, the van was spacious and comfortable – probably one of the reasons why most of us dozed off along the way.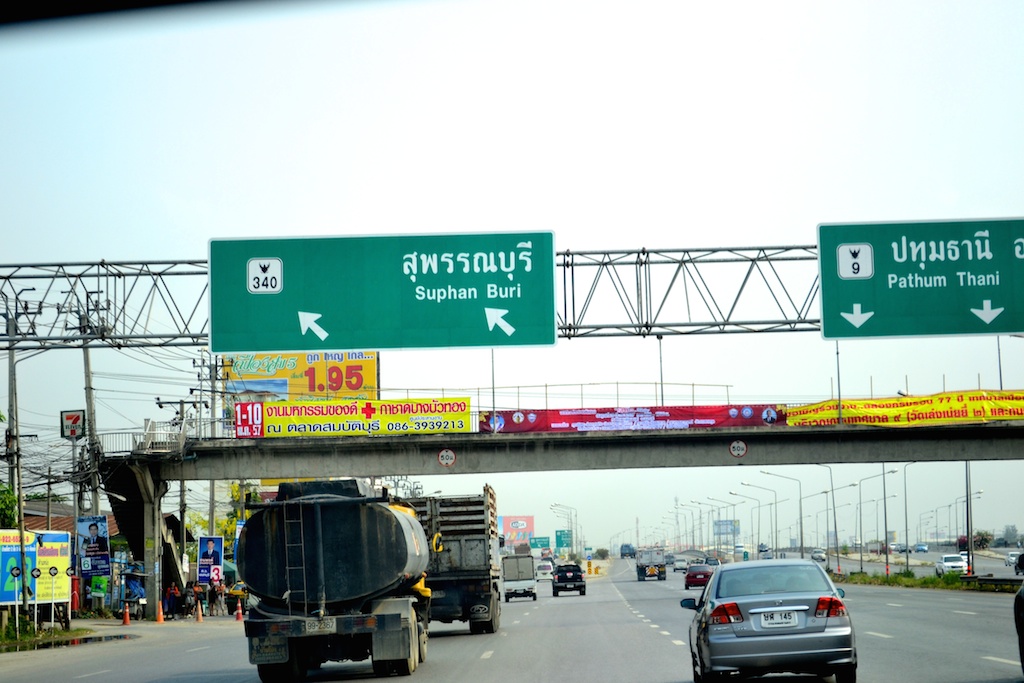 Our first destination was Bueng Chawark where we got to see over 50 species of exotic marine wildlife.  Bueng means lake in Thai, thus Chawark Lake is the literal translation for Bueng Chawark.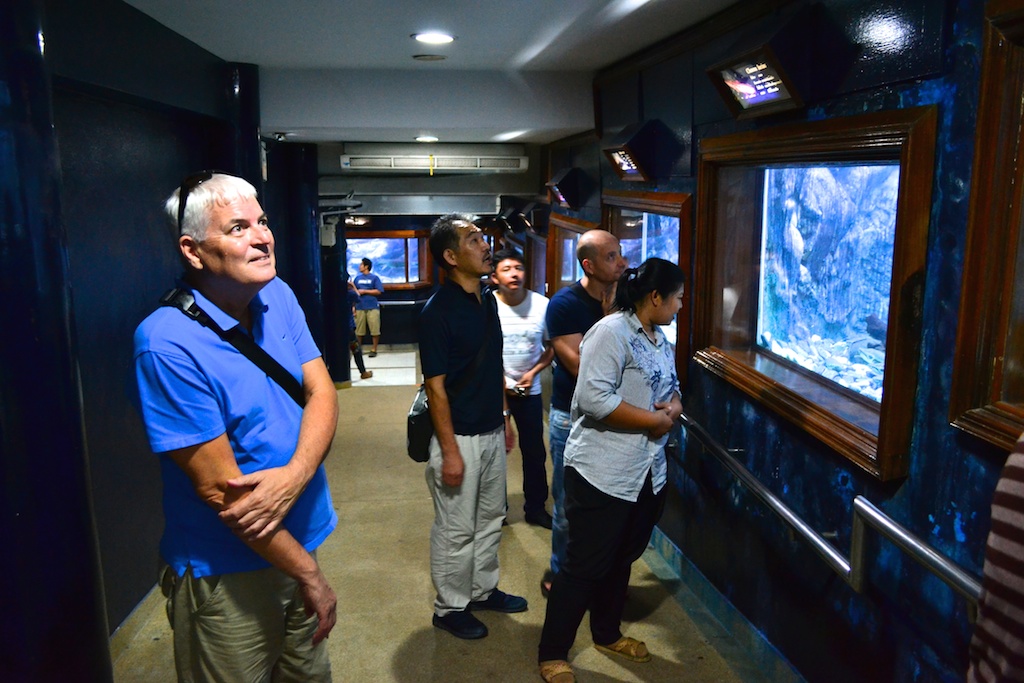 The next place we went to was an underwater tunnel submerged under 400 cubic meters of water.  It was a spectacular sight seeing all kinds of marine wildlife swimming over us.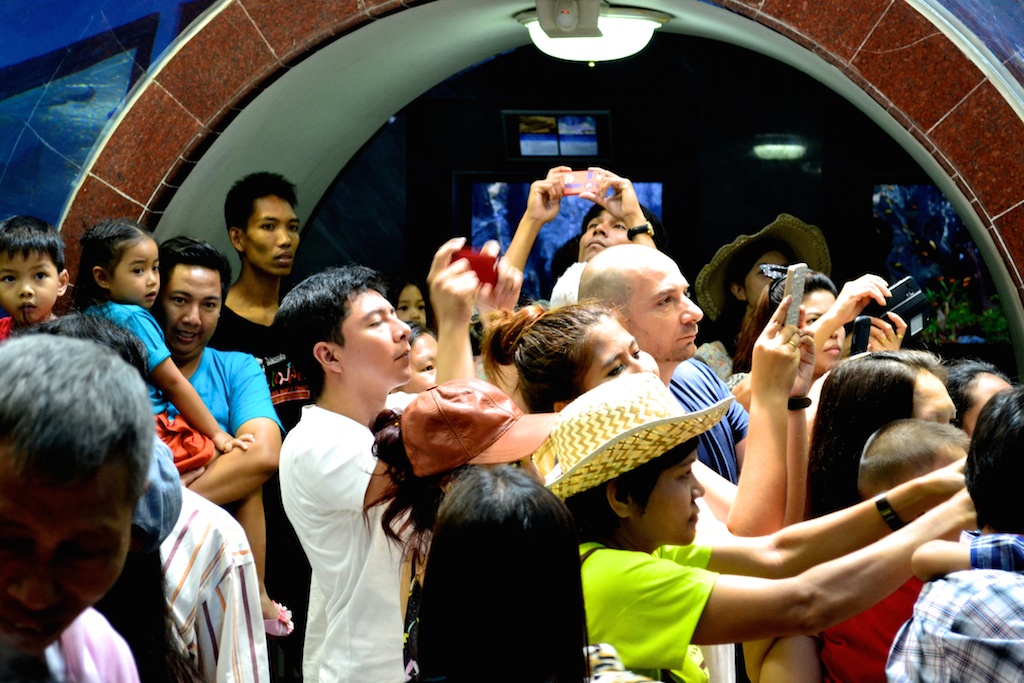 Along the way out, we headed to a crocodile farm where a show was about to begin.  Luis couldn't get himself to watch the tamer putting his arm and head into the crocodile's mouth and had to hide behind Khru Tarn.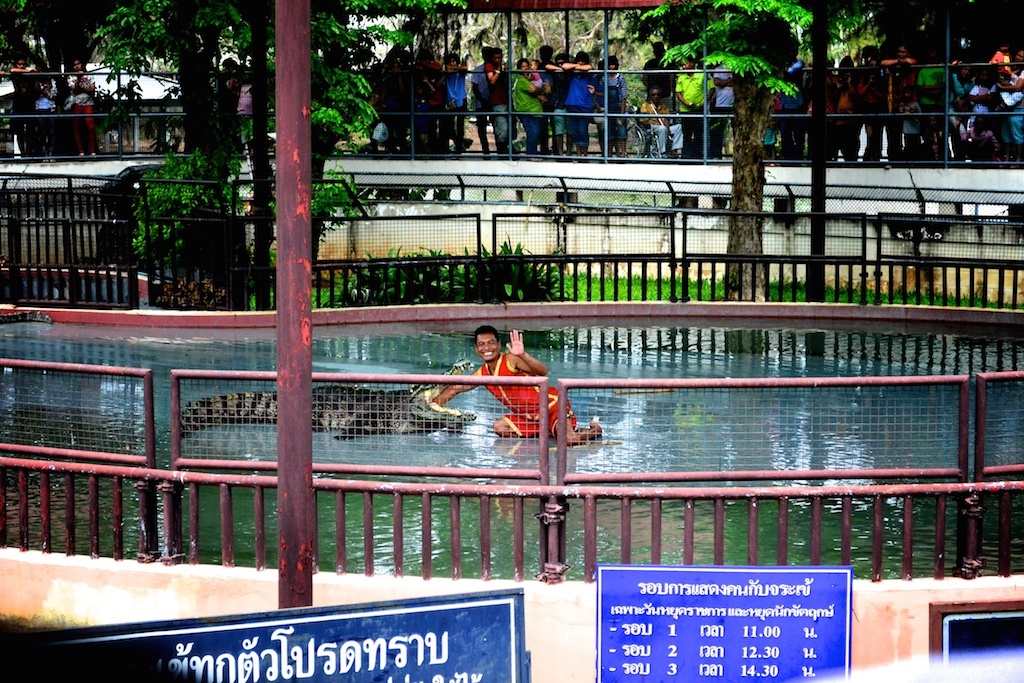 Mark however, dared the rest of us to do the same in exchange for money.  None of us took his dare.  Rather than risking losing our limbs for money, we decided to tip the crocodile tamer for entertaining us.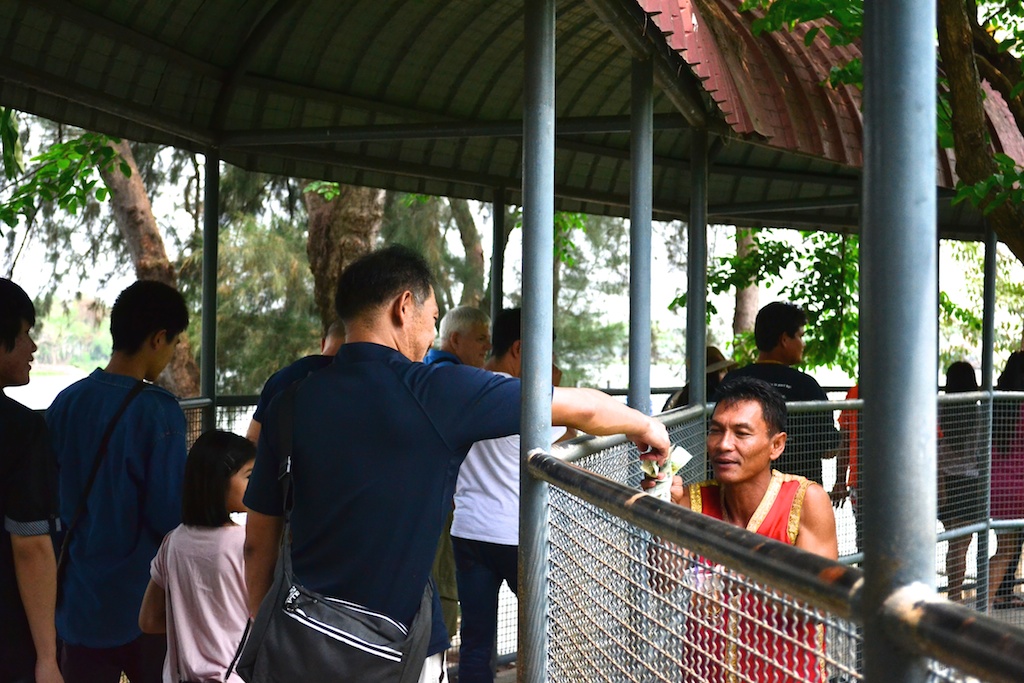 What came after this was probably the most exciting part of the trip.  We made our way to the tiger and lion sanctuary where we came eye to eye with white Bengal tigers.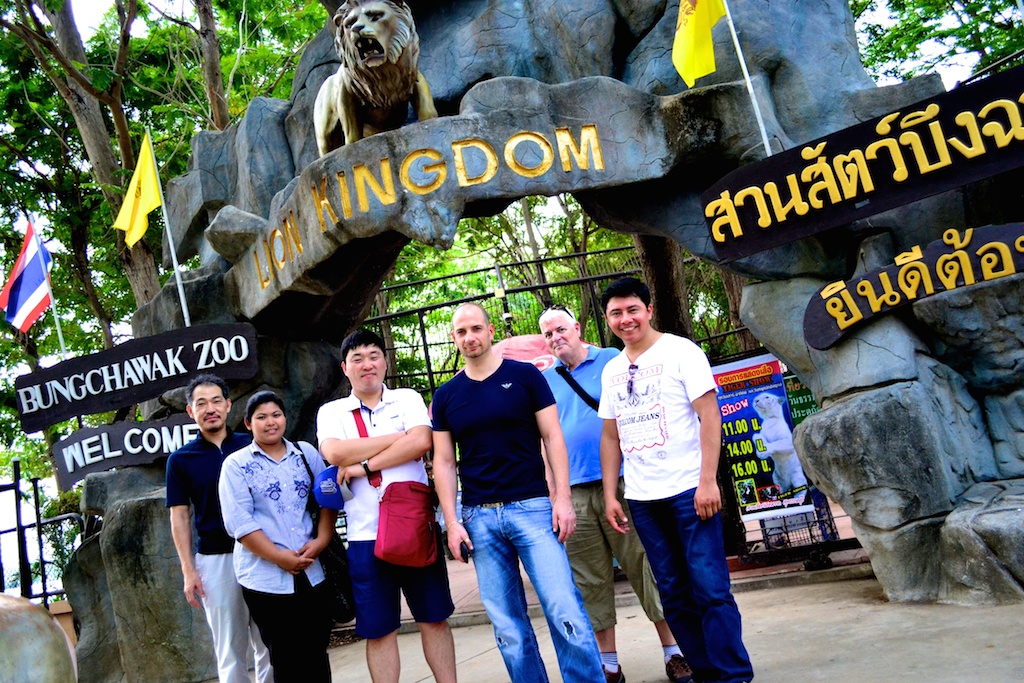 Rarely do we get a chance to come this close to a tiger.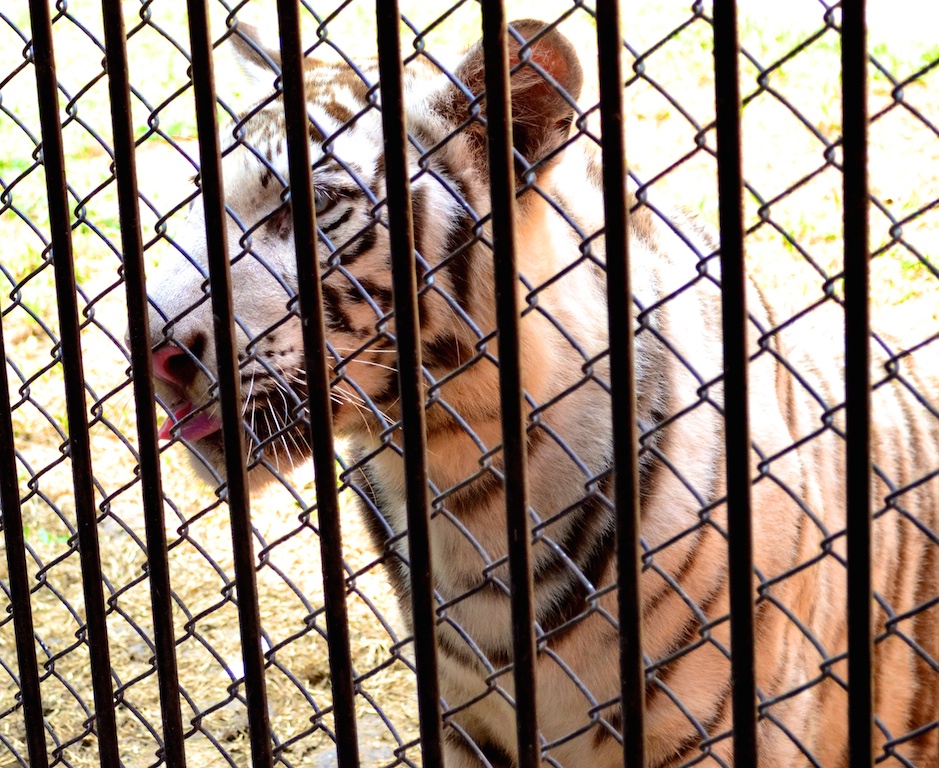 Still, that wasn't the most exciting part of the trip.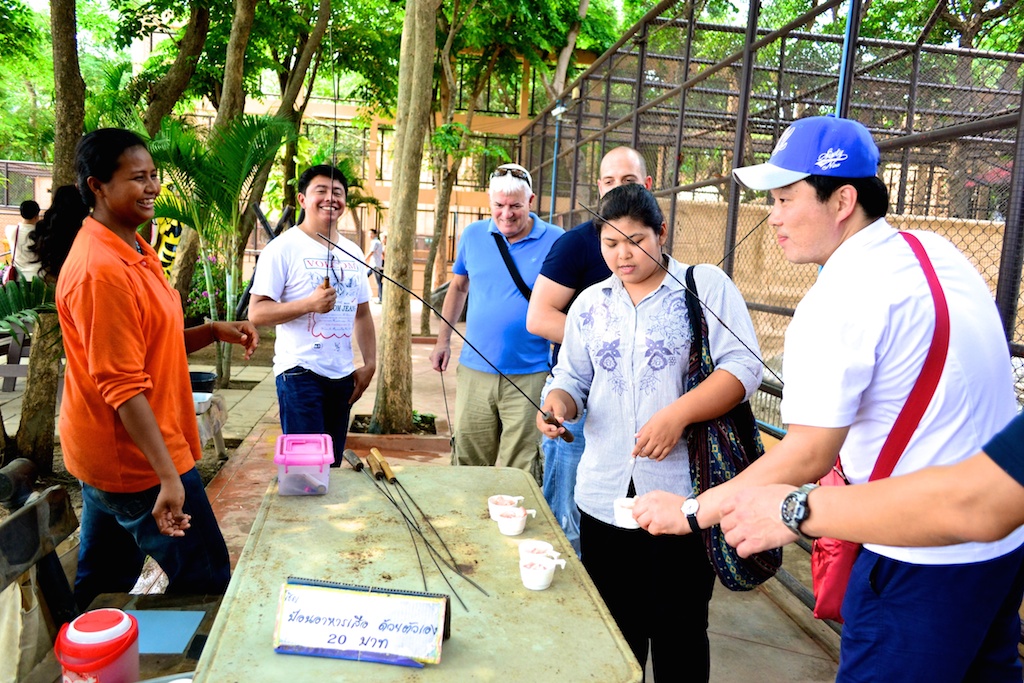 For the first time ever, we were given the opportunity to feed the tigers.  The fun was about to begin…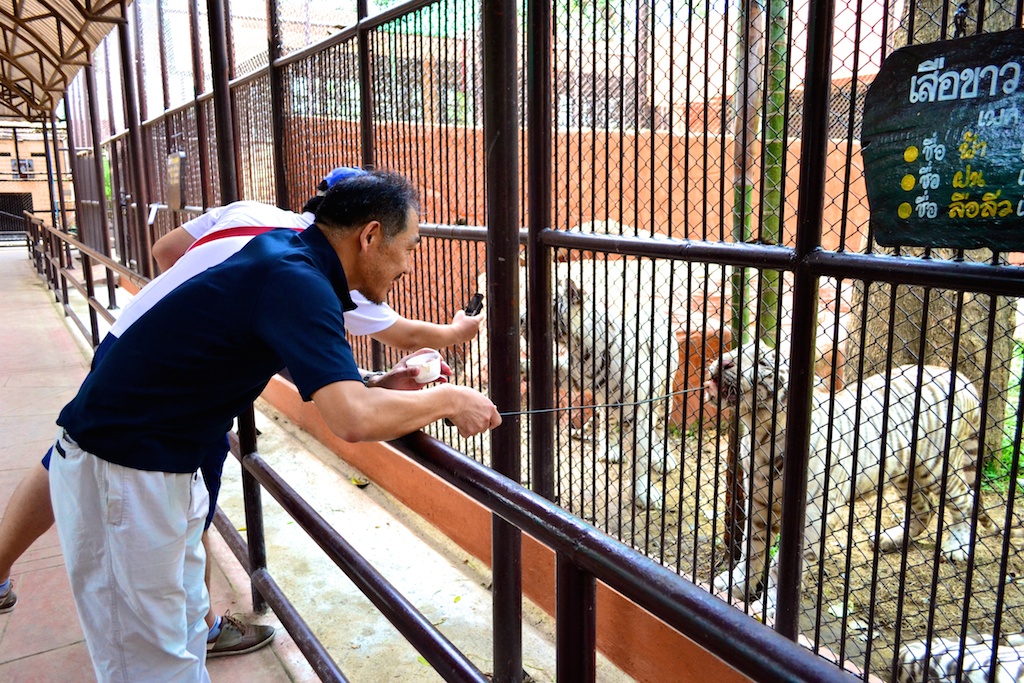 This is how we started…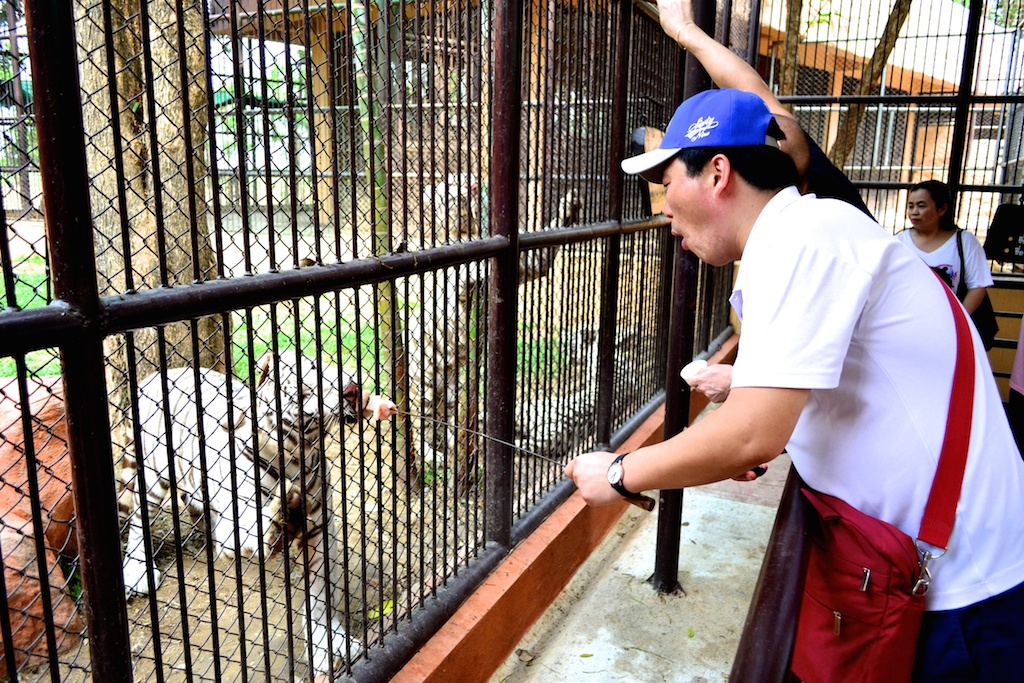 Then Mark suddenly had the brilliant idea of making the tigers "work" for their food…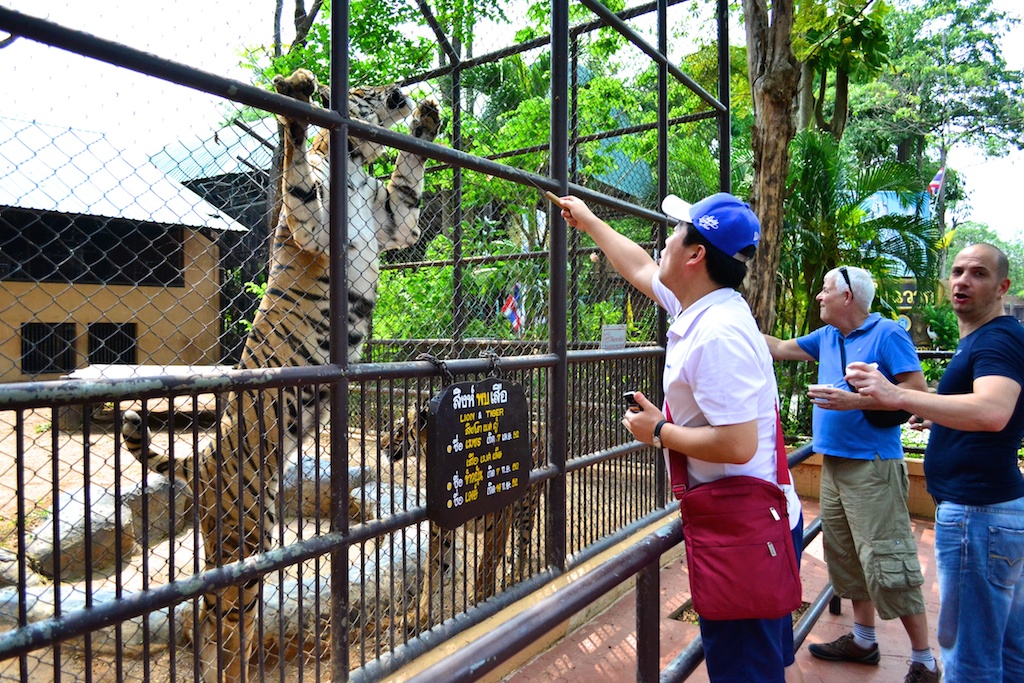 And he certainly got carried away.  One tiger got frustrated and roared so fiercely, it startled Geun Ho who jumped and started screaming for his life!  It was so funny, the rest of us couldn't stop laughing.  Unfortunately, we don't have a picture of it or it would have been hilarious!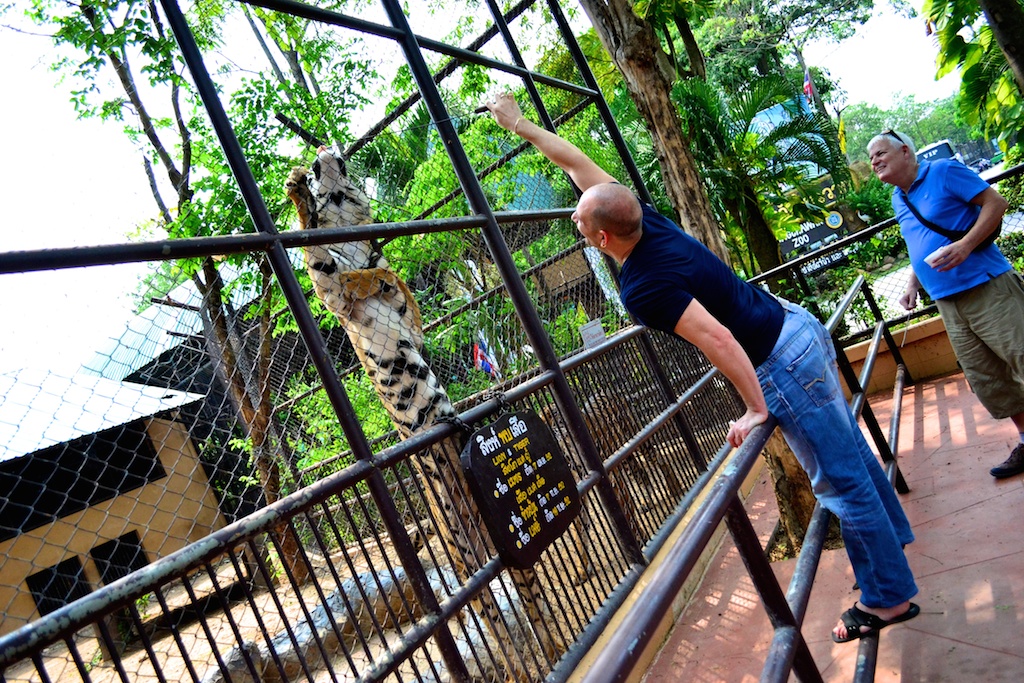 Here's Mark pushing it.  Look how tall that tiger is – it didn't even have to jump!  Mark is over 6 foot tall.  How tall do you think that tiger is?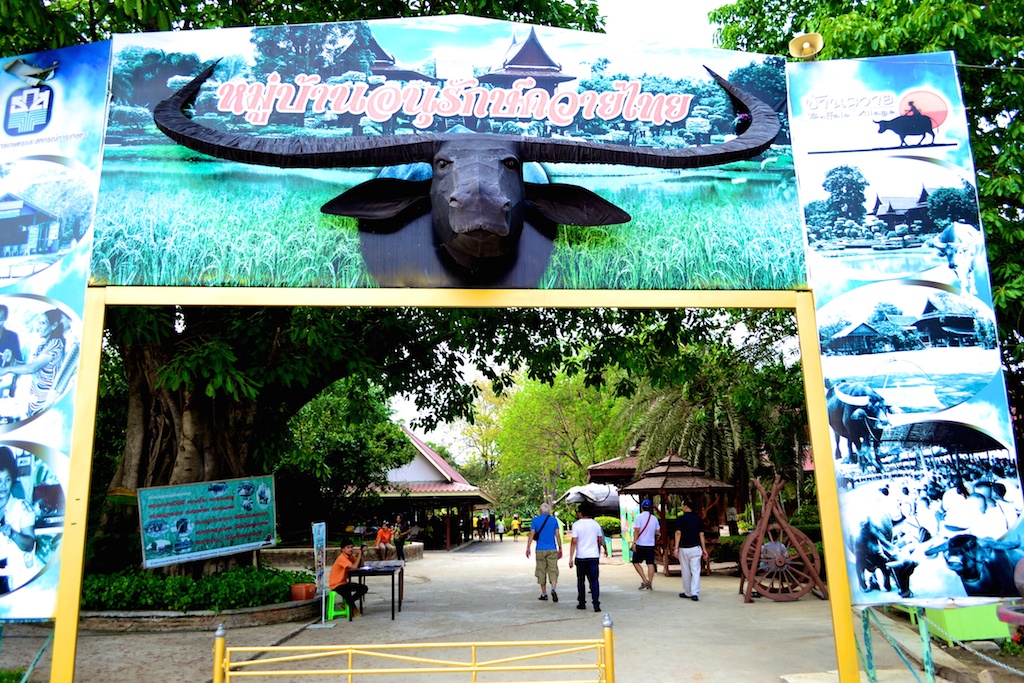 The next place we went to was Baan Kwai.  'Baan' is home in Thai, while 'Kwai' is buffalo. Thus, Baan Kwai literally translates to "home of buffaloes."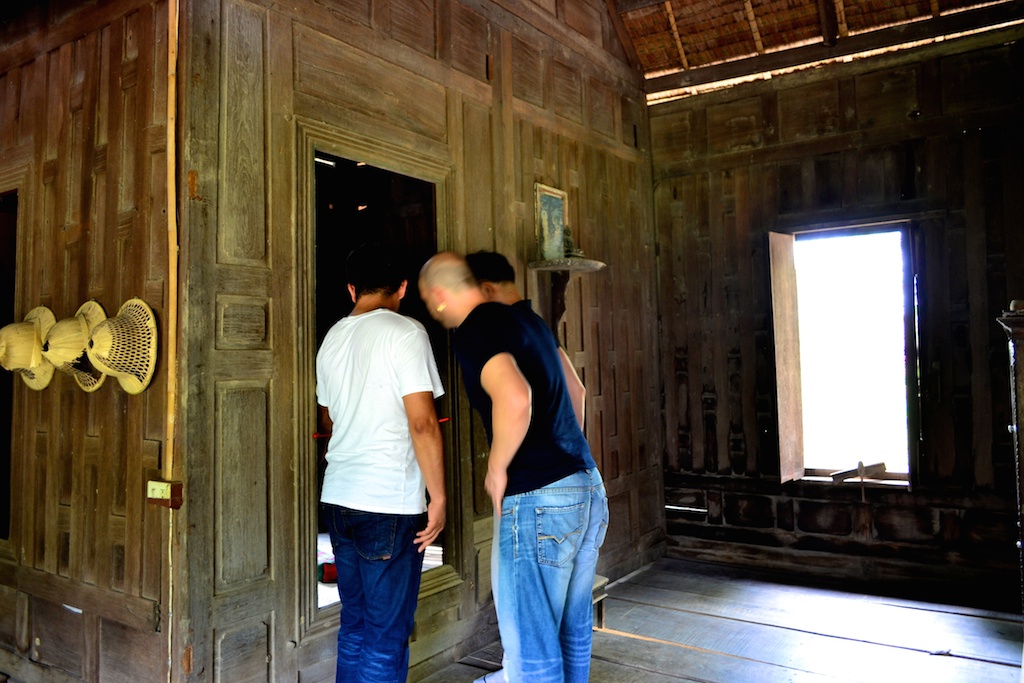 Here, we had the chance to catch a glimpse of what traditional Thai houses looked like.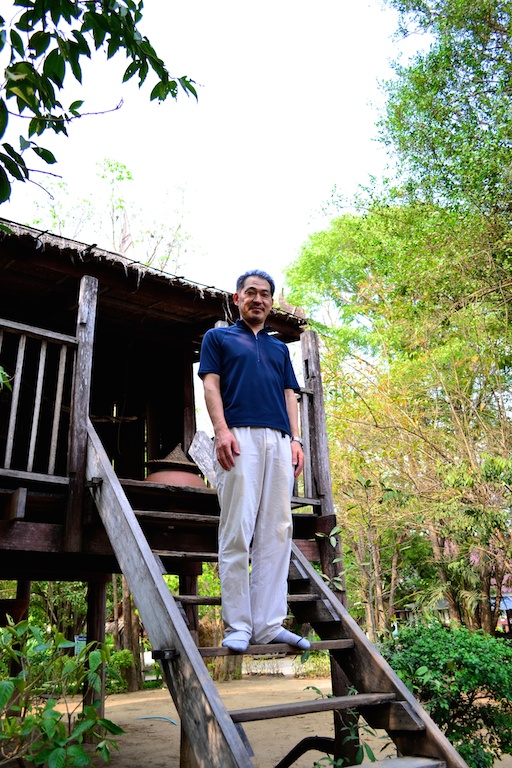 And next of course, we got to look at buffaloes.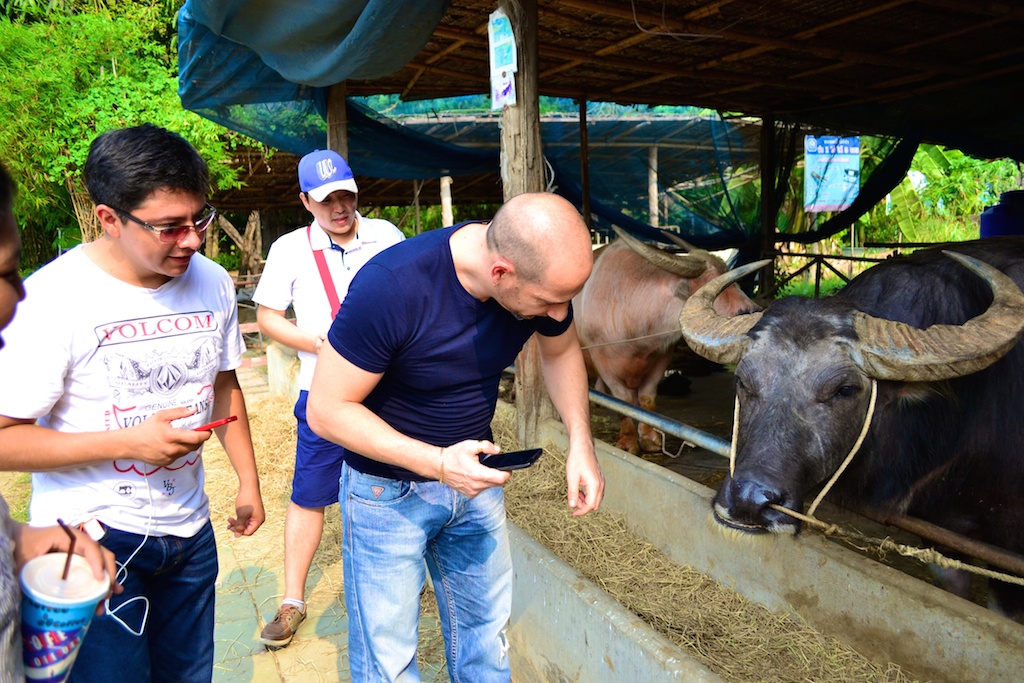 And even ride them too!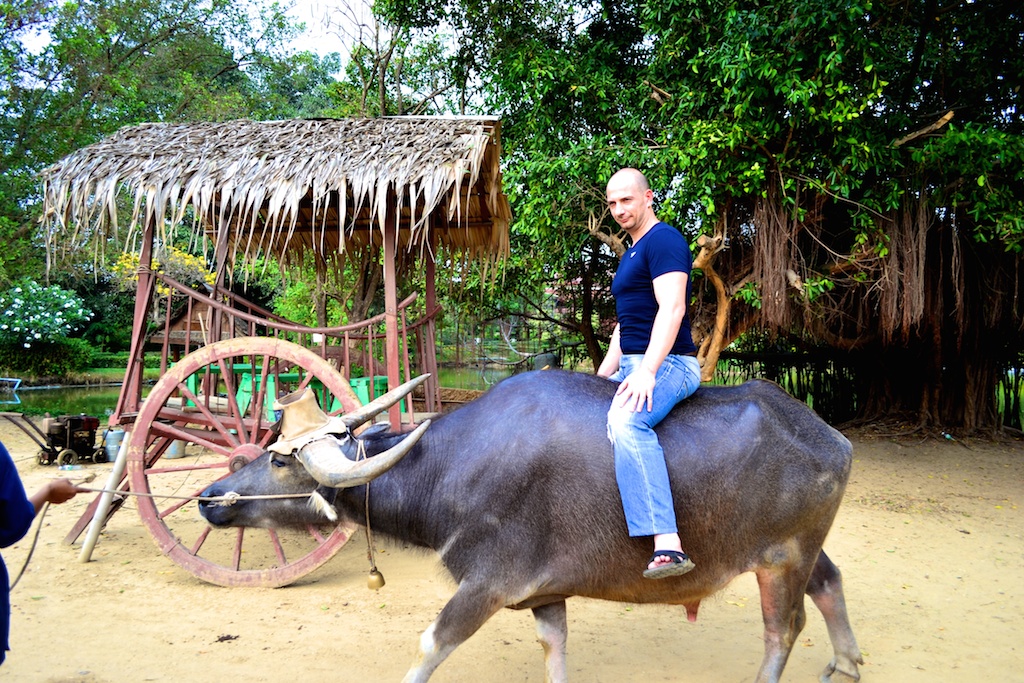 Here's Luis on a white (Albino?) buffalo.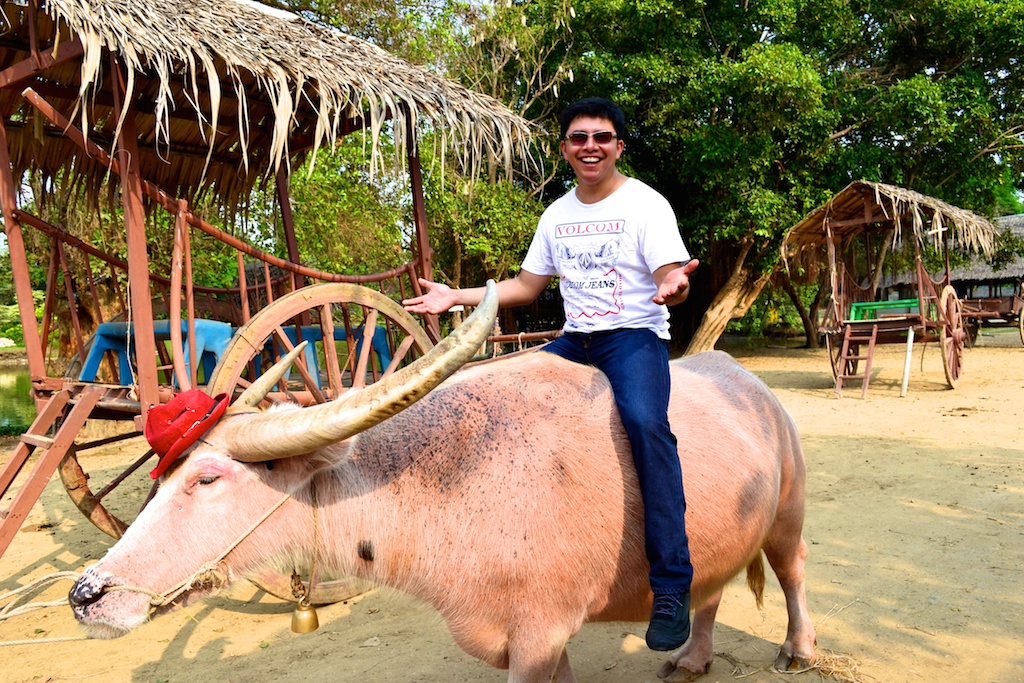 Other than buffaloes, there were many other animals like ostriches, wild boars, peacocks, and etc.  As it was nearing the end of the day, most of us were tired and starting to get hungry.  Dinner was calling us and that's how we found our way to Nontnatee Resort where we had a nice sumptuous meal.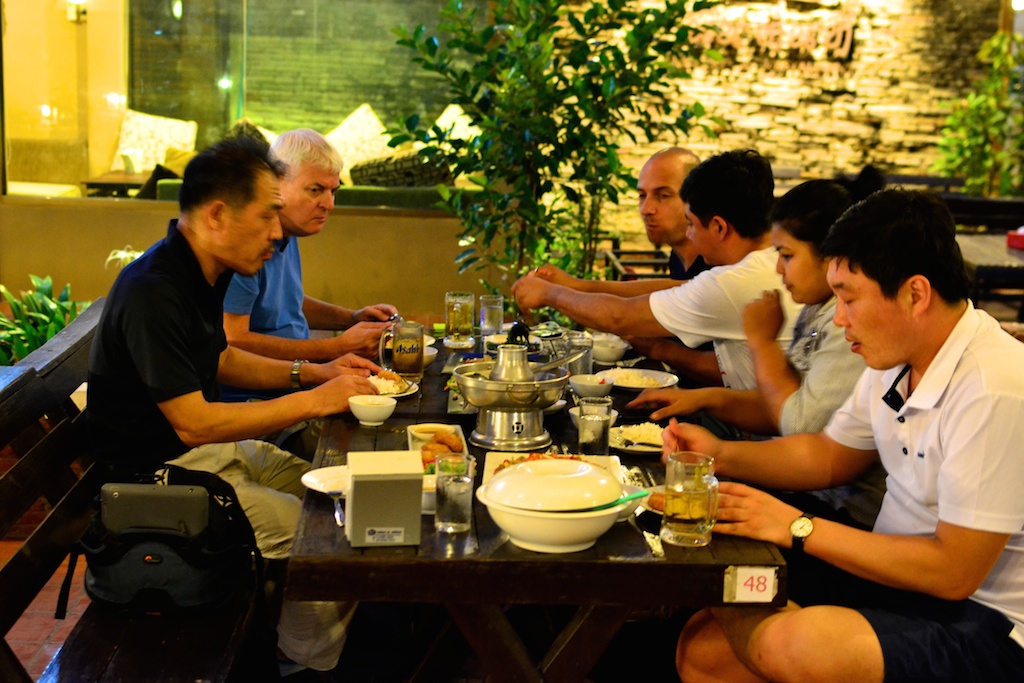 The Thai food was so amazingly good, it took only half an hour to finish every dish we ordered!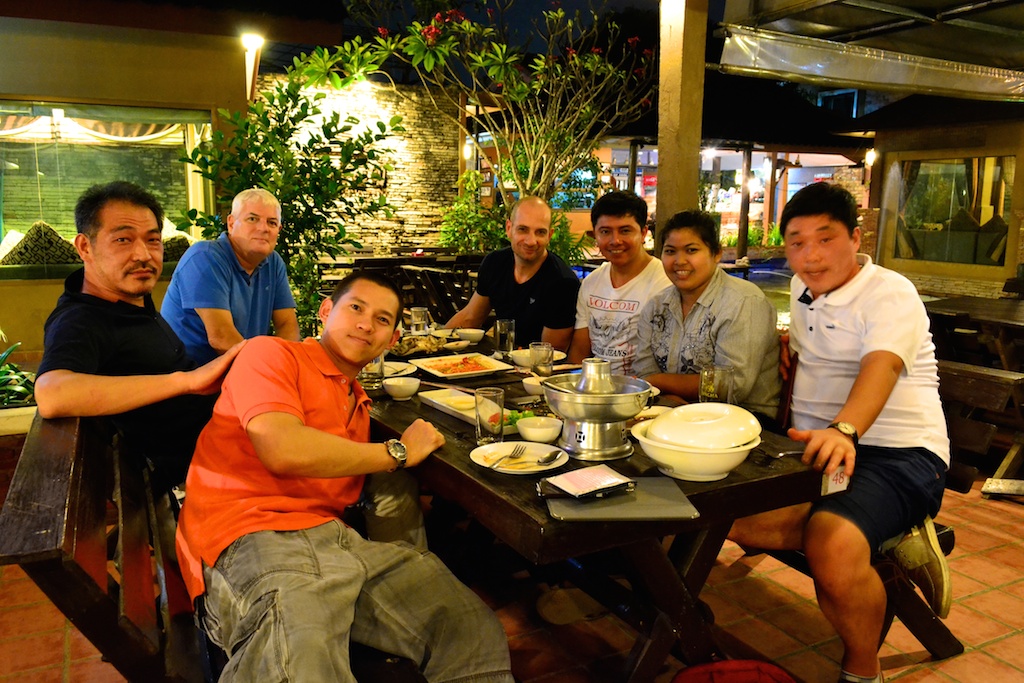 And that was how the trip ended…with delicious authentic Thai food we don't normally get at touristy destinations.  All in all, it was an interesting and enjoyable trip where our students got to practice speaking Thai to one another, and most importantly, to Thai people themselves.