Thrifty dog helps owner pay for car installment…
A couple who own a grocery store in Ayutthaya's Uthai district say they have a stable financial situation today because of their pet dog's habit of helping them "collect money" over the past three years.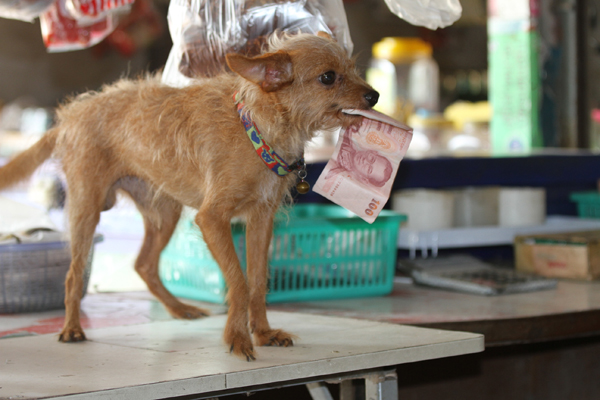 Pramote Kongsaema and his wife Sudarat Srikachin, both aged 51, said they could now comfortably handle household expenses including monthly installment payments for their Toyota Fortuner and even had extra money for neighbours asking for loans, thanks to the peculiar habit of their three-year-old little male dog, Kai Jeaw.
Kai Jeaw (which means omelette in Thai) is a cross between a chihuahua and a poodle. He has a habit of carrying banknotes in his mouth, running to a sofa inside the house where the couple keep their money box and placing the money there.
Mrs Sudarat said when Kai Jeaw was little, he found a 100-baht banknote someone had dropped in front of the shop. He took it to her and she gave him a compliment. Later, some other people dropped a 20-baht note and a 50-baht note and Kai Jeaw took them to her again.
"Then I tried to hand him a banknote which I got from selling goods. He did the same by taking it inside the house," Mrs Sudarat recalled.
Encouraged by the dog, she and her husband thought it was a good opportunity to collect the family's money through Kai Jeaw.
Since then, the couple hand some of the money – usually between 300 and 400 baht – from grocery sales to Kai Jeaw every day. Mrs Sudarat said the dog recently began to snatch notes from customers' hands while they were paying her. He sometimes poked her for money so that he could take it inside the house to the money box.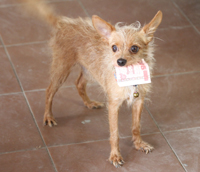 She estimated Kai Jeaw has been able to save more than 500 baht a day over the past few months.
The money collected by Kai Jeaw had been kept separate and never used for household expenses until recently, Mrs Sudarat said.
The family has three other dogs but none had the money-saving habit of Kai Jeaw, she noted.
Mr Pramoj said he and his wife were able to collect a large amount of money unknowingly due to Kai Jeaw's cleverness. They estimated the dog has carried more than 200,000 baht for them over the past three years.
"We have found that we can use Kai Jeaw's 'savings' to pay the installments on our Toyota Fortuner every month. When people come to borrow our money or pledge their gold ornaments, I borrow Kai Jeaw's money to offer as loans. Kai Jeaw's acuteness is well known among locals and he is loved by the whole community," Mr Pramoj said.
Source – http://www.bangkokpost.com/breakingnews/398546/kai-jeaw-is-a-doggedly-thrifty-pooch